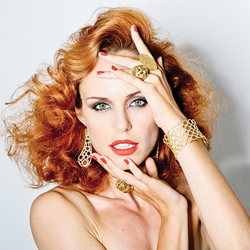 New York, NY (PRWEB) October 15, 2014
Golden Sands, is focused on bringing the opulence and beauty of gold to every woman. Using nature for inspiration across it's collections, the brand has expanded into retail stores across America and Asia, and is delighted to announce the launch of their brand new website, http://www.goldensandsjewelry.com.
Collections are based on nature inspired concepts. Style and aesthetics are harmonized for creative jewelry design. Statement earrings, bangles, necklaces and rings are composed of sterling silver with a layer of gold vermeil, making luxury affordable without compromising style.
The new website features stunning photography, with a golden design on a black background. There are also descriptions for each piece, with the ability to search the website based on either collection or type of jewelry. Social Media links and retailers are also listed, and the site uniquely features a moodboard, as well as a blog for updates.
The jewelry itself is glam, and can be noticed across the room, gracing the stunning fashionistas everywhere. Four staple collections are featured and continuously added onto: Weave, Coral, Spring and Flow, each with its own unique story and aesthetic.
The Weave collection celebrates the weave pattern, an art form renowned for its simplicity, yet featured often in mythical lore. Interlacing gold-plated silver creates harmonious patterns synonymous with work ethic and attention to detail.
The Coral collection is inspired by marine life, and the variety of shapes and sizes it comes in, drawing on the elegance of submerged nature.
The Spring collection is symbolic of the end of winter and resurgent life, where blossoming nature plays with constant movements.
The Flow collection focuses on silhouettes and creating beautiful jewelry from creative and continuous lines of movement in different shapes
Together these four collections show a tendency towards borrowing from organic elements, as well as classic motifs, and harmonizing them into wearable jewels for today's woman. Sophisticated, affordable chic!
For more information about Golden Sands jewelry, visit them online at http://www.goldensandsjewelry.com or email info(at)goldensandsjewelry(dot)com