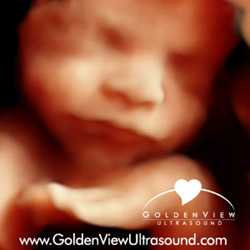 HDLive takes 3d/4d ultrasound to the next level by offering an even clearer image of what is going on in the womb. With added software features, it almost appears as if we were shining a flashlight in the womb."
Brookline, MA (PRWEB) August 08, 2015
GoldenView Ultrasound Boston now offers HDLive Ultrasound technology in addition to 3d/4d ultrasound services for expectant mothers. HDLive is the latest innovation in 3d/4d ultrasound technology from GE, offering unsurpassed clarity with new skin rendering techniques that give a realistic view of the baby in the womb. Some are referring to it as High Definition but it is actually offers much more. The light source can also be moved around the rendering to provide a variety of unique views of the same subject.
GoldenView Ultrasound Boston has been providing 3d/4d prenatal ultrasound services since 2006, offering expectant families an opportunity to get a 3 dimensional view of their baby using 3d ultrasound and to view their baby moving in real-time in the womb with 4d ultrasound. 3d/4d ultrasound technology has been available for over a decade but advancement in the rendering with the new HDLive is a recent development.
According to GoldenView Ultrasound owner, Nikki Limburg, "this was an obvious extension to our business. Parents expect the latest in technology during their pregnancy. HD Live takes 3d/4d ultrasound to the next level by offering an even clearer image of what is going on in the womb. With added software features, it almost appears as if we are shining a flashlight in the womb."
Sonographers at GoldenView Ultrasound have received extensive training using the new HDLive technology from experts in the field and spent several months perfecting their skills. The GoldenView Ultrasound Boston facility manager and lead ultrasound technician, Michele Watters has been imaging babies in 3d/4d for almost 9 years and states "the transition to the new equipment with HD Live has been an exciting one, we can do so much more to get astonishing images of the babies" said Watters.
To view additonal images at various stages of pregnancy go to http://www.goldenviewultrasound.com/gallery-Boston-HDlive-ultrasound.html and to view HD Live videos go to http://www.goldenviewultrasound.com/gallery-Chicago-HDlive-ultrasound-video.html