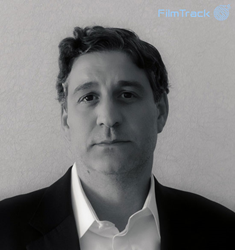 "Our incredible growth and impressive customer adoption continues to lead the way in the industry. Our truly unique SaaS based platform and visionary approach has huge potential to transform the industry..." -Eyal Goldstein
Studio City, CA (PRWEB) February 23, 2016
FilmTrack, the leading provider of intellectual property and rights management solutions for the media and entertainment industry, today announced the promotion of Eyal Goldstein as Chief Revenue Officer. In his new role, Goldstein will be responsible for all revenue generating activities along with shared responsibility for customer facing operations, corporate development and marketing.
A 15-year enterprise software and SaaS industry veteran, Goldstein joined FilmTrack in 2014 as Executive Vice President of Sales and has since rapidly scaled the sales organization. Having previously spent over a decade in the Oracle ecosystem as a sales leader in software and consulting, Eyal's responsibilities included developing and executing global sales strategies while overseeing sales functions for all domestic regions.
"It is a distinct honor to be recognized during this exciting time in our company," said Goldstein, "My goal moving into 2016 is to focus on exceeding all of our growth targets as well as aligning and optimizing the entire FilmTrack customer experience. Our incredible growth and impressive customer adoption continues to lead the way in the industry. Our truly unique SaaS based platform and visionary approach has huge potential to transform the industry, which is why I am thrilled to be a part of it."
In addition to Goldstein's promotion, FilmTrack also announced several other key promotions and hires within the sales team. "These appointments continue the transformation of our sales organization starting with Eyal's initial appointment back in 2014," said Jason Kassin, CEO of FilmTrack. "Eyal's leadership has been instrumental to our 2015 sales growth with the largest year and best quarter on record."
A record breaking 2015 in both revenue and new customer acquisitions validates FilmTrack's market leading solution and why more companies chose FilmTrack for their Rights & Royalties solution than any other vendor.
FilmTrack cites several contributing factors, (i) key advancements in their technology platform and capabilities, (ii) a sharp focus on organic growth, (iii) doubling of sales and marketing capacity with several key hires and promotions, (iv) strong partner and acquisition strategy, (v) financial partners supporting FilmTrack's growth efforts including Silicon Valley Bank (SVB), Wellington, and Insight Ventures.
The global standard in intellectual property management for the media and entertainment industry, FilmTrack provides its suite of cloud-based SaaS solutions to more than 200 companies.
###
About FilmTrack
For nearly two decades, FilmTrack has been transforming the way the media and entertainment industry monetizes, measures and delivers its content and related assets across every point in the intellectual property lifecycle. FilmTrack's cloud-based software platform streamlines the complex intellectual property management process – from project inception to distribution – and provides a holistic view into critical data supporting rights, availabilities, contracts, invoicing, licensing, revenue recognition, royalties and workflow management. Backed by Insight Venture Partners, FilmTrack serves as both a front and back office to hundreds of clients worldwide including DreamWorks Animation, Endemol, eOne, Saban Brands, Miramax, National Geographic and Starz. Visit http://www.filmtrack.com to learn more.