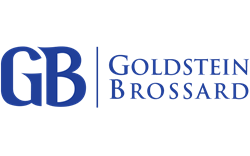 But when they see their competition representing a new client on the news it starts to hit home
San Jose, CA (PRWEB) September 10, 2014
Goldstein Brossard is a premier provider of Search Engine Optimization technology for law firms and lawyers. Recently they launched an updated version of their website at http://www.goldsteinbrossard.com. Along with the launch of their new site they are now offering no cost consultations to attorneys and law firms who are in need of Search Engine Optimization. "Most of the attorneys we talk to think they are doing okay online and most of them would rather not focus on their competitors outperforming them. But when they see their competition representing a new client on the news it starts to hit home," says Anthony Brossard, VP of Sales. "We help people actually get more of the cases they want instead of churning through cases that don't match their practice. Legal Marketing without direction usually produces calls that are undesired or are unprofitable."
Goldstein Brossard offers services related to attorney marketing such as:

SEO or Search Engine Optimization
Video and YouTube Optimization
Social Media Optimization
Press Releases
Reputation Management
Blogging
Yelp Profile Optimization
Website Development
Video Production
Content Development
Call Tracking and Reporting
Goldstein Brossard has a large team of experts who have years of experience handling SEO and Legal Marketing for Law Firms. "I have been helping law firms with their marketing needs since 2003. During that time I have learned a lot about the legal industry. From personal injury to criminal defense to probate, I have helped many law firms with successful marketing strategies," says Dan Goldstein. "The biggest problem we see is law firms buying SEO from people who don't have the legal industry knowledge to properly help them. Most of the time the keywords they focus on don't match what the potential client searches."
Goldstein Brossard is now offering potential new clients a no cost evaluation of their current internet presence. "We are offering the no cost consultation because we want to help people understand what a successful marketing plan online looks like before asking them to spend money with us. The consultation is comprehensive and the people involved in the analysis never fail to impress," says Anthony Brossard. "We do so much more than the average SEO Company. Everybody knows somebody who has been burned by an SEO company. We actually have the infrastructure and experience to get the job done right."
To learn more about Goldstein Brossard or Legal Marketing please visit GoldsteinBrossard.com. The no cost consultation consists of a meeting with real experts who understand the specific areas of practice that are relevant to the firm. To schedule a no cost consultation to learn more about Attorney SEO please call them at (408) 625-7360.
Goldstein Brossard
8 Hangar Way
Watsonville, CA 95076
(408) 625-7360