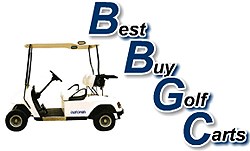 Green Cove Spirngs, FL (PRWEB) October 11, 2013
Best Buy Golf Carts urges customers to pay for professional diagnostics to maintain their golf carts this fall. Every week, well-intentioned customers make this mistake and their good intentions cost them money.
Every fall, someone will "surrender" and bring in their golf cart or have a staff member come pick it up to find out what is wrong with their cart. They explain: "I changed the XYZ part and I replaced the widget and that wasn't it. A mechanic friend of mine said it was the ABC part and I changed that and it still isn't working. So, I guess I need to pay you fellows to take a look at it for me."
The customer does not want to "waste money on paying someone to diagnose their problem" but will waste hard-earned money and time on replacing perfectly good parts with new parts in hopes that they will fix their problem. This happens all the time when individuals try to save money by performing their own repairs.
Instead, he or she will waste their time and money trying to fix their cart themselves instead of paying a reasonable diagnostic charge to a professional. On many occasions, people waste hundreds of dollars trying to save a $79 diagnostic charge. Time after time, customers are in shock when the cart is diagnosed with a problem that can be resolved for less than a hundred dollars.
Best Buy Golf Carts can be found at 3293 U.S. Highway 17 in Green Cove Springs, Florida, or customers can call to set an appointment: 904-284-5300.
About the company:
Best Buy Golf Carts has been in business in the Jacksonville area and Green Cove Springs since 1976 and supplies golf cart parts and accessories throughout the United States. Specializing in resolving golf cart electrical issues, Best Buy Golf Carts also sells new and pre-owned golf carts, golf cart parts and accessories, and builds customized carts. They are the areas only authorized Trojan & Powertron, USI battery dealer and they are a Nivel and EZGO Dealer. Visit their large show room to view pre-owned, new and custom golf carts and their stocked parts room with some of the lowest prices on golf cart parts and golf cart accessories.