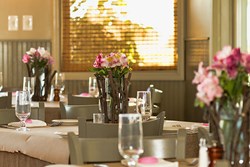 Copake Lake, NY (PRWEB) October 23, 2013
It's October and pink is the popular color of choice, especially at The Greens, the restaurant and best-kept secret at Copake Country Club in upstate New York. The Greens once again has transformed its menu and décor to raise awareness for breast cancer prevention for a third year.
Diners will notice the subtle pink hues as they walk into the usually subdued earth-toned Adirondack-chic dining room, soft pink votives and flowers on the tables, one pink oar on the wall of the open and airy three-season room, and complimentary pink bracelet for the dinner crowd.
Each week, Chef Glenn Strickling features a pink dinner special. The first week, Glenn served up a pleasing house-made pink beet fettuccine Alfredo with shrimp, prosciutto and asparagus. The dessert menu added an October-only special addition of a pink raspberry panna cotta with fresh raspberries and candied lemon peel. The bar also features specialty drinks with a splash of pink, too.
The Greens will donate 10 percent of all food sales from dinners sold in October to the Northeastern New York Affiliate of Susan G. Komen for the Cure®. The Greens' owners, Jon and Kim Urban, hope to beat last year's donation of $750.
"We never realized how important an issue breast cancer awareness really was until two very close friends of ours were diagnosed (with breast cancer), both within the span of only one year. It wasn't until Kim and I saw the impact of emotional stress and the uncertainty our friends and their families were going through that we decided to be a bigger part of the picture to help others," says Jon Urban, owner of The Greens and Copake Country Club.
Copake Country Club doesn't just stop at transforming The Greens' Zagat-rated restaurant this October. The grounds crew has added special touches as reminders, too, from pink flag sticks to pink tee markers. The pro shop has pink tees for sale as well.
Copake Country Club and The Greens Restaurant are located at 44 Golf Course Road, on the shores of Copake Lake, just minutes off the Taconic State Parkway in Columbia County. The Greens is open now 11 a.m. to 8:30 p.m. Monday through Thursday, 11 a.m. to 9:30 p.m. Friday and Saturday, and serves brunch on Sundays from 11 a.m. to 2:30 p.m. and dinner from 5-8 p.m. Visit their website at http://www.copakecountryclub.com to make open table reservations from the homepage.
About the Company:
Built in 1921, Copake Country Club was designed by golf's Golden Age architect, Devereux Emmet, just a few years before he designed the Congressional Golf Club in Bethesda, Maryland. Situated on 160 unspoiled rolling acres with breathtaking views of the Berkshire and Catskill Mountains at every hole, Copake Country Club has challenged and delighted golfers ever since.