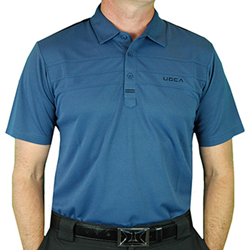 UGCA Golf, The Newest Exciting Name in Men's Golf Apparel that is Trending Right Now
Nationwide (PRWEB) March 09, 2014
Now, there's a way to embrace the underground lifestyle, enjoy the game of golf, and look great doing it, thanks to these fine golf polo shirts, made available by UGCA, the new leading name in sportswear on and off the course.
These smart and comfortable men's golf polo shirts are made of the best materials. What's more, are great for casual situations as well as rounds on the links. When it comes to the best in men's clothing, this brand fits the bill and looks great, a clever way to boost self esteem, "Research conducted by Jo Barton and Jules Pretty, and published in the journal of Environmental Science and Technology, discovered that an additional five minutes of activity in the outdoors can improve self-esteem levels. Several outdoor activities like golfing are fun and provide great exercise," Livestrong reports.
The game of golf is a challenging one and players not only want to better their scores, but project the right image. No other brand combines sophistication with the casual feel like this one. Whether it's time to take to the greens or take in a game at the local stadium, UGCA Golf apparel makes the man.
"Currently, there are ten polo shirts in the UGCA family line, which include: the Kensington, Highgate, Colindale, Stockwell, Stratford, Wembley Park, Richmond, Kings Cross, Greenwich, and the Dollis Hill. All are made from 100 percent Polyester with moisture wicking performance using light to medium weight fabric."
With such strong and careful construction, these polo shirts make practically any situation comfortable, be it on the links or out and about. What's more these shirts are affordable, giving the wearer more bargains for their money, starting at just $54.99. In addition, the company offers bundle packages, order 3 polo shirts and receive a free shirt or hat at one low price.
For more information about golf polo shirts, or men's golf polo shirts, as well as men's clothing, please contact UGCA Golf by phoning 951-805-5611 or via email at: info(at)ugcagolf(dot)com. UGCA Golf is a wonderful combination of one of the most challenging games in the world, and the underground lifestyle. The company passionately pursues its goal, working hard to ensure its customers have an unreal look on or off the course.