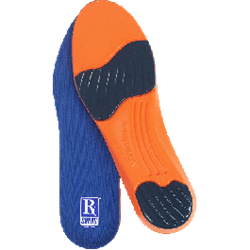 Insoles can actually improve your shoe comfort level during a good golf game.
Chicago, IL (PRWEB) May 23, 2015
RxSorbo, a leading online retailer of top-rated shoe insoles, is excited to announce the availability of a new blog post on choosing golf shoe insoles.
"Now that Spring is has definitely arrived, I know that men and women all over the country are going to be rushing out to the links to get in a long-delayed game of golf," explained Rj Yozwiak, Manager of RxSorbo. "And while I wish them all the best, and hope they enjoy the game, I would also sound a note of caution, particularly directing this warning to first-time golfers. Just because golf does not seem like a high-impact sport, there are risks of injury involved in golf; golf shoe insoles are a good start on minimizing this risk. How does this happen? While the arms and torso might seems like the obvious area for problems, the foot plays an integral role in the golf swing, pivoting to allow the hips to rotate during the swing. Problems can occur as golfers also roll their feet too far in, and the weight of the body is not distributed evenly. Choosing golf shoe insoles that give proper foot support can counteract this tendency, resulting in a better game, and one less likely to lead to injury."
Proper golf shoe insoles are the simplest way to reduce the risk of over-extension, that twisting the feet inwardly too much. This is the primary cause of foot problems among golfers, especially in amateur golfers who are still learning the correct stance and swing technique. But more experienced golfers are not immune, particularly when 'rusty' after a break from the game. Wearing golf shoe insoles that provide adequate support to the arch area of the foot is good insurance against irritation and injury that will reduce one's pleasure and proficiency in the game.
To learn more about choosing golf shoe insoles, and all other types of shoes, please view the new blog post that can be found here: http://www.rxsorbo.com/blog/?p=657. To browse available insoles for golf, one can visit the following URL: http://www.rxsorbo.com/insoles/golf/. Further, one can also browse the company's classic heel pads, classic insoles, and the all whole line of walking sole insoles.
Developed by a Materials Scientist to mimic human flesh - Sorbothane® is a one-of-a-kind visco elastic polymer. 100% unique - Sorbothane® is a solid that naturally "flows" like a liquid - Sorbothane® absorbs impact shock and provides comfort better than any other insole material available today.
About RxSorbo
RxSorbo is the source for Sorbothane® Shoe insoles (shoe inserts). Sorbothane® uniquely absorbs up to 94.7% of impact shock, and makes for quality shoe insoles for many conditions. People come to RxSorbo for shoe insoles for foot maladies from Plantar Fasciitis to Morton's Neuroma to metatarsalgia to many other conditions. From Shoe inserts for running to top-rated insoles for dress shoes to gym shoes, reviews of the company's shoe insoles prove they are among the best shoe insoles.
RxSorbo
http://www.rxsorbo.com/