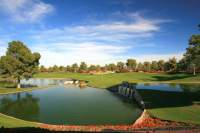 I'm excited to join forces with Nike Junior Camps and host kids at The Raven Phoenix this June
San Rafael, CA (PRWEB) December 07, 2015
US Sports Camps is pleased to announce the addition of Nike Golf Camps in Phoenix, Arizona. Raven Golf Club serves as the host site with one of the nation's most prominent coaches, Martin Chuck, directing the camp programs.
"We're fortunate to collaborate with Martin and bring junior golf camps to the Raven this summer," states Jason West, senior vice president for Nike Golf Camps. "With a proven coach at the helm and a first class facility as the backdrop, junior golfers are in store for an unforgettable golf experience."
Nike Golf Camps at Raven Golf Club offers four week-long half day sessions and run from 8:00AM - 11:00AM, Monday - Friday. The programs are scheduled for June 6th – 10th, June 13th – 17th, June 20th – 24th and June 27th – July 1st. The camps are co-ed and suitable for golfers of all skill levels, ages 6 – 13. Visit Nike Golf Camps, Phoenix for complete information.
"I'm excited to join forces with Nike Junior Camps and host kids at The Raven Phoenix this June. When I was a kid I loved golf camp. Some of my fondest memories came from the skills and friendships developed at those camps. I'm excited for my Tour Striker team and I to create an environment of success and fun introducing golf to these kids. It's an honor to be associated with Nike Junior Camps and their great track record of success with juniors all across the country." – Martin Chuck
At an early age in Toronto, Martin Chuck fostered a love for the game inspired by Canadian legends Moe Norman and George Knudson, from whom he received his first lesson. After his college career Martin played professionally on the Canadian and Nationwide Tours among many other satellite tours around the United States. He left the tour and focused his attention on club management and coaching golfers and founded the acclaimed Tour Striker Golf Academy.
About Nike Golf Schools & Junior Camps
Nike Golf Schools & Junior Camps is a division of US Sports Camps, Inc., America's largest sports camp network. NGJC offers junior overnight and day camps, and advanced player schools at over 100 locations nationwide. Since 1994, more than 175,000 junior golfers have participated in the camps. To explore a variety of camp options and locations please visit the official website for Nike Golf Schools & Junior Camps.
About US Sports Camps
US Sports Camps (USSC), headquartered in San Rafael, California, is America's largest sports camp network and the licensed operator of Nike Sports Camps. Over 75,000 kids attended a US Sports Camp program in 2015. The company has offered summer camps since 1975 with the same mission that defines it today: to shape a lifelong enjoyment of athletics through high quality sports education and skill enhancement. Athletes, Coaches, Parents and others interested in learning more about our 2016 Nike Sport Camp programs can visit http://www.ussportscamps.com or call 1-800-645-3226.