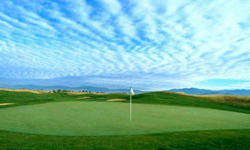 Coach Matt Higgins has assembled a first-rate staff and secured one of Montana's best golf facilities, The Ranch Club
San Rafael, CA (PRWEB) February 22, 2016
Nike Golf Camps at the University of Montana will offer both full and half day golf camps with UM Head Coach, Matt Higgins. The camps, held at The Ranch Club, are structured to tackle every facet of the game including putting, chipping, driving, and approach shots. Players have the opportunity to practice the skills involved with playing golf at the highest level.
"Coach Matt Higgins has assembled a first-rate staff and secured one of Montana's best golf facilities, The Ranch Club. Furthermore, the association with University of Montana falls squarely in line with our mission to align with America's finest academic and athletic institutions." said Jason West, senior vice president for Nike Golf Camps
Coach Higgins led Concordia-St. Mary's to nine NCAA regional appearances before taking the helm in Missoula. "When they reached out to me about partnering with them, and with the University of Montana being a Nike Elite program, it only made sense to join forces with offering these camps!" says Higgins.
The Nike Golf Camps, University of Montana includes a full and half day camp for all abilities, and a specialized program for high school players looking to take their game to the next level. The all abilities camp runs from 9:00am-12:00pm and 9:00am-4:00pm the week of June 20th. The high school camp runs from 9:00am-4:00pm the week of June 27th.
About Nike Golf Camps
Nike Golf Schools & Junior Camps (NGJC) is a division of US Sports Camps, Inc., America's largest sports camp network. NGJC offers junior overnight and day camps, and advanced player schools at over 110 locations nationwide. Since 1994, more than 150,000 junior golfers have participated in the camps. To explore a variety of camp options and locations please visit the official website at http://www.ussportscamps.com/golf for Nike Golf Camps of call 1-800-Nike-Camp.
About US Sports Camps
US Sports Camps (USSC), headquartered in San Rafael, California, is America's largest sports camp network and the licensed operator of Nike Sports Camps. The company has offered summer camps since 1975 with the same mission that defines it today: to shape a lifelong enjoyment of athletics through high quality sports education and skill enhancement.