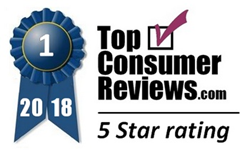 For all of these reasons, Worldwide Golf Shops earns our first-place ranking among online retailers of Golf Clubs
OVERLAND PARK, Kan. (PRWEB) August 09, 2018
TopConsumerReviews.com recently gave a best-in-class 5 star rating to Worldwide Golf Shops, a leader among online retailers of Golf Clubs.
Golf continues to gain in popularity, with more Millennials trying the sport for the first time than any other age group. For newbies and seasoned professionals alike, having the right Golf Clubs makes a huge difference when trying to sink that hole-in-one - or just trying not to put the ball into the water hazard. In fact, a good set of golf clubs can help balance distance and accuracy to give the golfer the best chance at improving their game. The easiest way to sort through the wide variety of golf clubs available is to shop online.
"Whether you're looking for top brands like Callaway and Titleist, or a budget-friendly kids' starter set, Worldwide Golf Shops will have the clubs and other golf gear you need," explained Brian Dolezal of TopConsumerReviews.com, LLC. "You won't find a better selection anywhere, and their prices are extremely affordable. You can even trade in your current Golf Clubs and get an e-gift card that you can apply towards your purchase. Best of all, this store has some of the industry's best customer service, with a 90-day return policy and free shipping on all orders of $100 or more. For all of these reasons, Worldwide Golf Shops earns our first-place ranking among online retailers of Golf Clubs. We're pleased to give them our highest recommendation in 2018."
To find out more about Worldwide Golf Shops and other sellers of Golf Clubs, including reviews and comparison rankings, please visit the Golf Clubs category of TopConsumerReviews.com at https://www.topconsumerreviews.com/golf-clubs/.
About Worldwide Golf Shops
Worldwide Golf, which has been operating as a golf specialty retailer since 1965 and is one of the nation's largest specialty golf retailers, currently owns and operates 35 stores in six states doing business as Roger Dunn Golf Shops in California and Hawaii, The Golf Mart in California, Vans Golf Shops in Arizona and Golfers' Warehouse in New England. The Worldwide Golf brands have been offering golfers quality products and the guaranteed lowest prices for over 50 years all backed by the 90-day, 100% satisfaction guarantee.
About TopConsumerReviews.com
TopConsumerReviews.com, LLC is a leading provider of reviews and rankings for thousands of consumer products and services. From Golf Clubs to Sporting Goods and Swimming Pool Supplies, TopConsumerReviews.com delivers in-depth product evaluations in order to make purchasing decisions easier.