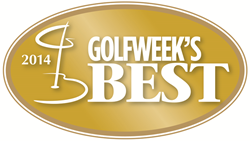 Orlando, Fla. (PRWEB) March 19, 2014
As the polar vortex relaxes its grip on the country, Golfweek is getting readers ready for the upcoming spring season with the Friday release of its highly anticipated 18th annual Best Courses issue. Celebrating great golf architecture across the country, the March 21 magazine features the 2014 rankings of Golfweek's Best Classic and Modern courses, as well as a state-by-state listing of the nation's best public-access courses.
"This list affirms the No. 1 positions of Sand Hills Golf Club (Mullen, Neb.) on the Golfweek's Best Modern list and Pine Valley Golf Club (Pine Valley, N.J.) on the Classic list," said Bradley S. Klein, national director of Golfweek's Best Courses rating program. "It also demonstrates the results of successful major restorations. On the Classic side, we see Mid Pines Club (Southern Pines, N.C.) at No. 77 and Old Town Club (Winston-Salem, N.C.) jump from No.72 to No. 29. And over on the Modern side, the success of major renovations is evident with the return of Spring Island/Old Tabby Links (Okatie, S.C.) at No. 67."
In addition to publishing these definitive lists in book and online, Golfweek is also honoring the stellar courses that are on the periphery of the top-100 Golfweek's Best lists by posting the rankings of the Next 100 Classic and Next 100 Modern Courses as an exclusive bonus on Golfweek.com.
To produce Golfweek's Best Courses lists, an expert team of more than 725 course raters uses a 10-point ranking system to identify the best layouts from two distinctly different eras: pre-1960 and 1960-present. The exclusive system recognizes that before 1960 – the year that separates Classic from Modern – most course designers relied on native contours for course features. Since 1960, as the game became more popular, designers began to utilize high-tech engineering and advanced mechanical means to transform the landscape to suit their designs.
"Our Golfweek's Best Courses issue always is a popular issue with our readers, many of whom tabulate the number of top-100 courses they have played and eagerly flip pages to see where their home course stacks up," said Golfweek Editor Jeff Babineau. "Rating courses is a subjective endeavor, but it's always interesting to unveil our new lists and listen to the conversations that they generate."
To view complete lists of the 2014 Golfweek's Best Modern, Classic and State-by-State Courses, as well as Golfweek's Best Next 100 Classic and Next 100 Modern rankings, visit Golfweek.com/GolfweeksBest.
About Golfweek's Best
Since beginning its rating system in 1997, Golfweek has developed the most respected ranking structure in the industry. Golfweek's expert team of course raters, which currently boasts more than 725 evaluators, rates each nominated course on the basis of Golfweek's 10 strict standards of evaluation. Collectively, Golfweek raters have turned in more than 65,000 votes. Golfweek's Best Courses lists include: Modern, Classic, Casino, Municipal, Campus, Residential, Resort, Canadian, Caribbean & Mexico, Great Britain & Ireland and Courses You Can Play. The full criteria for evaluating the golf courses may be found at Golfweek.com/GolfweeksBest.
About Golfweek
Founded in 1975, Golfweek is the most authentic, authoritative and independent voice in golf. Serving enthusiasts who are truly passionate about the game of golf, the Golfweek brand includes Golfweek magazine, Golfweek.com, Golfweek OnDemand, Golfweek Mobile, Golfweek Custom Media, The Golf Wire, The Apparel Wire and TurfNet.com. Golfweek is part of Turnstile Media Group, which specializes in developing diverse media platforms that engage and strengthen the communities they serve. Founded in 1990 and headquartered in Orlando, Fla., Turnstile Media Group is also the parent of Professional Artist, Community Media Holdings, The Seminole Voice, The Winter Park/Maitland Observer and Turnstile Connect.