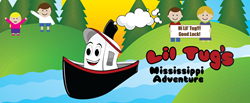 Lil Tug, a true tribute to the children's book Paddle to the Sea
Minneapolis, MN (PRWEB) April 03, 2014
Lil Tug, a true tribute to the children's book Paddle to the Sea, is about to embark on his greatest journey yet. Think Thomas the Train, but in real life. His trek begins near the Twin Cities at the Mississippi River (the fourth longest river in the world), equip with waterproof camera and GPS tracking, but how his journey proceeds is entirely up to its backers. He will travel from Minneapolis St. Paul through Wisconsin, Iowa, Illinois, Missouri, briefly through Kentucky, Tennessee, Arkansas, all the way down through Louisiana, Mississippi and into the Gulf of Mexico.
Both a risk and a challenge, Lil Tug will traverse dangerous waters through dams, weeds, rocks, inclement weather, and elevation drops; only to be stuck on shores, tree roots, rocks and weeds. He can't make it without the help of his backers. Backers can be a Lil Tug Hero by finding him and setting him back on his course. Follow his campaign with a real-time photo feed and GPS tracking; Tweet, Like, Share his trip and help him get to the sea 2,340 miles away from home. It's a community effort to get Lil Tug to his destination, and without backers, there is no Lil Tug!
The more support Lil Tug has, the more likely he is to succeed in reaching the Gulf of Mexico. Lil Tug's goal is to raise at least $25,000, for a more durable Lil Tug construction and encased battery powered GPS and water resistant camera, and the ongoing technology required to keep Lil Tug connected to the community of followers and backers.
When Kickstarter backers donate, they will have the option to receive a personalized certificate as an official Lil Tug supporter, a Twitter shout out, fan t-shirt, Lil Tug coffee mug or even a life-sized replica of Lil Tug when pledging support.
We can't do it without you. Visit the Go Lil Tug Kickstarter to learn more:
Follow the #GoLilTug on Twitter for live updates.
"A journey of a mile begins with one step"