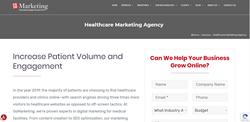 Our Healthcare Clients have benefited greatly in the past 10 years with our marketing programs. Dedicating a team to this vibrant industry is an evolution of our services - Richard Uzelac, CEO GoMarketing Inc.
THOUSAND OAKS, Calif. (PRWEB) December 16, 2019
In preparation for 2020, GoMarketing has launched a division dedicated to servicing and communicating their digital marketing solutions for the healthcare and medical industry. The new digital collateral on GoMarketing.com breaks down the types of medical entities that can benefit from digital marketing and advertising, as well as more detailed information about their services tailored to healthcare professionals.
"Under this industry-specific initiative, GoMarketing now accommodates businesses and clinics that serve the following specialties in modern medicine: skilled nursing, mental health, home health and hospice, outpatient therapy, physical therapy, diet and nutrition, and more," said Richard Uzelac, CEO of GoMarketing Inc.
With more and more potential patients searching for medical specialists online, it is more important than ever for clinics and practices to not just be visible, but also available via digital devices. Websites for healthcare entities ought to be integrated with the latest tools such as live chat, intake forms, and appointment scheduling to accommodate patient needs and demands. "As the medical industry continues to innovate and go digital, GoMarketing is excited to provide web development tools and digital marketing services that clinics and facilities need to stay cutting-edge in 2020 and beyond," says Richard Uzelac, CEO and founder of GoMarketing.
In addition to offering premium digital assets and solutions for the healthcare sector, GoMarketing is a versatile, full-service marketing and advertising agency for home service companies, real estate professionals and brokerages, local small businesses, and more. Their valued clients span Southern California throughout Ventura and Los Angeles County. To learn more about their digital marketing services targeted towards medical professionals and clinics, visit:
https://gomarketing.com/industries/healthcare-marketing-agency/
About GoMarketing
Based out of Thousand Oaks, California, GoMarketing. uses the following mission statement to deliver digital marketing results to their clients: "Understand. Engage. Succeed. Grow." Acting as digital marketing professionals within a wide range of industry sectors, the GoMarketing team specializes in SEO, content strategy, website design and development, and more--providing a full suite of marketing solutions that generate online leads and sales for businesses throughout Southern California. For more information about their custom marketing plans, contact Richard Uzelac, CEO of GoMarketing directly at 805.413.7893 or visit http://www.gomarketing.com.
About Richard Uzelac
Founder of GoMarketing and RealtyTech Inc., Richard Uzelac is an Emmy award-winning graphics producer, former Director of Realtor.com, and sits on several boards of directors. Richard Uzelac's GoMarketing works with Corporations and Small Businesses to generate exposure, sales and improve online reputation. Mr. Richard Uzelac is also available as a Technology Speaker, Seminar Provider and Business Consultant. For more information, contact Richard Uzelac at 805.413.7893.