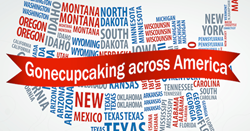 Long says, "Gonecupcaking across America is the next big thing in the cupcake craze, people love to decorate."
Baltimore, Maryland (PRWEB) March 24, 2014
Led by 4th generation baker Sandra Long, owner of Charm City Cupcakes heads across the country to present Gonecupcaking!, a hands-on experience where people participate in a 90-minute cupcake decorating class that teaches the fundamentals of designing gourmet cupcakes in large groups.
America's Biggest Cupcake Decorating Event (ABCDE) has successfully been held in several major cities such as Philadelphia, Baltimore, Richmond, Nashville and Fort Lauderdale. The 2014 Tour will go to Chicago, Atlanta, Portland, Dallas, Los Angeles and other metropolitan areas.
Gone Cupcaking across America will kick-off its 25 City Tour in Louisville, Kentucky for March Madness on March 29th, 2014. Highlighting the Kentucky basketball rivalry, the event will be a signature Red v. Blue cupcake decorating event held at the Louisville Marriott Downtown. "I'm originally from Nashville, and even I know about the basketball rivalry in Kentucky. Red v. Blue cupcake decorating just makes sense. We had to do it!"
"The event will have a great twist on our original events because it is centered Red v. Blue basketball, Long said. Guest will mix icing in team colors and top cupcakes with red and blue sprinkles, candy basketballs, and toppers. It will be a lot of fun, but you actually learn to decorate cupcakes the professional way"
Guests can choose from a Decorating 101 Session ($50), a family fun event for 2 ($60) or a Signature Girls Night Out ($50). "Participants will get eveything they need to decorate, our signature icing, 6 cupcakes, a Wilton decorating kit to take home, and all the spinkles and toppings their cupcakes can hold".
Event sponsors include Dominos Sugar, Wilton Enterprises, Factory Direct Craft,and Nielson- Massey Vanilla. Look for Gonecupcaking events to be held in Dallas, Chicago, Los Angeles, Atlanta, Portland, Philadelphia, Nashville and other major US metropolitan areas this year. Tickets are available for purchase through http://www.gonecupcaking.com and Groupon.com
International Dessert Group, Inc. is based in Baltimore, Maryland and is one of the largest speciality dessert companies in the US. IDG's brands include Charm City Cupcakes, Saturday Cookies, Ruby's Vegan, Triple C Bakery, Princess Buttercream and Gonecupcaking Entertainment.