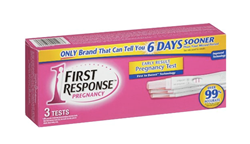 Voted Best April Fool's Day Prank of 2015 by April Fool's Day Company
SAN DIEGO, CALIFORNIA (PRWEB) March 24, 2015
A growing number of women are buying and using real positive pregnancy tests supplied by other pregnant women in order to show a positive result. Will some women turn this joke into an awful trap?
"Once the site launched, the traffic was shocking" says Derick Downs, internet entrepreneur and founder of several websites including Gonna Be A Mom.com and Gonna Be A Dad.com. For some women, this is the best prank to pull on a man. It's a lot of fun, and there's no harm done. For others, it's an evil tool to manipulate men.
How does it work? Once an order is placed, a pregnant affiliate will pee on a real pregnancy test stick. The pregnancy stick is then sanitize, and repackage, inside the original box. After packaged, the positive pregnancy test is then mailed out. Once the order is received, a female has the ultimate joke to play on a husband, boyfriend or lover.
The pregnancy test is the real thing. The package includes real instructions, and looks exactly like it came from a major manufacturer. "It's very convincing, and will easily fool anyone" says April Fools Day company April Fools Day.co who voted this product as the "Best Prank of 2015".
Downs offers this disclaimer: "It helps to have a good sense of humor. Both the seller and test manufacturer are not responsible for any negative outcomes from using this item. The buyer accepts all consequences from using this prank."
This prank can actually have good results in some relationships. One might just find out how serious a man is about the relationship if he thinks about a bun in the oven. It's a great gag, prank or joke, for April Fool's Day. It's also a great wake-up call or a reality check when called for from Gonna Be A Dad.com.