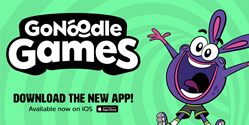 "Kids love watching videos and playing games - but neither get them moving. GoNoodle is solving that by giving them a game that is fun and active," said KC Estenson, CEO of GoNoodle. "By bringing movement to a typically sedentary activity, we are creating a new way to play."
NASHVILLE, Tenn. (PRWEB) March 13, 2020
GoNoodle is announcing the launch of GoNoodle Games, a free iOS app that makes screen time active, letting kids control the suite of games using their movements. GoNoodle Games uses Open CV-based computer vision and machine learning technology to detect movement and bring kids into the action, without requiring any additional hardware. GoNoodle Games gets kids jumping, ducking, dodging, and holding a pose while playing fast-paced mini-games each with unique movements, obstacles, and opportunities to earn points.
"Kids love watching videos and playing games - but neither get them moving. GoNoodle is solving that by giving them a game that is fun and active," said KC Estenson, CEO of GoNoodle. "By bringing movement to a typically sedentary activity, we are creating a new way to play."
Kids and teachers already enjoy the benefits of integrating movement and mindfulness into the school day with GoNoodle - and parents rely on GoNoodle as a safe, active, fun screen time option for their kids at home. Each month, more than 14 million kids, in millions of homes and four out of five U.S. public elementary schools, play GoNoodle. With the introduction of GoNoodle Games, GoNoodle extends its home presence by introducing a new way to increase movement outside the classroom. GoNoodle Games will bring families:

Active Screen Time: The only way to play GoNoodle Games is to get off the couch and jump, wave, and twist! Since every mini-game requires movement, playing is a great opportunity for kids to wake up their bodies, engage their minds, and get active.
Engaging Content Kids Love: The same people who developed GoNoodle's leading movement and mindfulness platform developed GoNoodle Games. Every element of the games are designed to be active, engaging, and good for kids.
GoNoodle Favorites in a New Medium: The GoNoodle Games app features kids' favorite characters, moves, and music that they giggle and wiggle to every day in the classroom and adds a new, fun game-play twist!
A Free, Easy Entertainment Option: The GoNoodle Games app doesn't require any extra hardware and ties real-time movement to game outcomes. All you need is a mobile phone or tablet, the free GoNoodle Games app.
"With the launch of GoNoodle Games, we are providing safe, active screen time built around characters that are loved by millions of kids and trusted by millions of teachers," said Ann Howard, VP of Product, GoNoodle. "GoNoodle Games will give kids new opportunities to move, and busy families new ways to entertain their children that they can feel good about. By using technology that is already in over 80 percent of U.S. households, we can truly bring movement-based entertainment to all kids, everywhere."
The initial set of GoNoodle Games includes:

Flo Yo's Bubble Pop - Help Flo Yo free the fishies and avoid the sharks by waving your hands and moving your body.
Om Petalhead's Flower Power - Clear the weeds in Om's garden by jumping and sweeping your arms, then chill out and do some yoga with Om… don't forget to watch out for the bees!
Zapp Von Doubler's Space Race - Jump into Zapp's character, use your jetpack to steer through space, collecting stars and avoiding space junk.
Squatchy Berger's Rock and Roll - Rock out with Squatchy Berger in this rhythm game with a movement twist. Follow along with your hands while Squatchy lights up the rocks to make music.
Download the free GoNoodle Games app on iOS today (Android coming soon) - and check out GoNoodle videos at home by downloading the free GoNoodle video app on iOS, Android, Apple TV, Amazon Fire, and Roku today. See https://gndle.com/Games for details!
About GoNoodle:
GoNoodle is a media and entertainment company dedicated to empowering kids and creating good energy. Our movement and mindfulness content make screen time active time. Created by child development, education, and movement experts, GoNoodle is used in four-out-of-five U.S. public elementary schools and in millions of homes. At least 14 million kids play GoNoodle each month. Founded in 2013, GoNoodle is headquartered in Nashville, Tenn. For more, visit http://www.GoNoodle.com.
Press contact:
Julie Crabill
GoNoodle, Inc.
press@gonoodle.com
(408) 219-5617