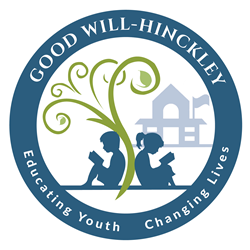 "We feel our new tagline tells more of a story about our commitment to transforming the lives of young people. Education is a huge part of what we do, but we're more than a school. We're a place where young people come to be their best selves." – Rob Moody, President, Good Will-Hinckley
HINCKLEY, Maine (PRWEB) August 21, 2019
One of Maine's oldest charitable organizations is undergoing a significant rebrand—while staying true to its 130-year-old mission.
Good Will-Hinckley (GWH), an organization which provides education and other resources to boys and girls in need, recently introduced a revamped logo, along with a new tagline: "Educating Children. Changing Lives."
"We feel our new tagline tells more of a story—the story that George Hinckley started back in 1889—one that really emphasizes our commitment to transforming the lives of young people," says Rob Moody, president of GWH. "Education is a huge part of what we do, but we're more than a school. We're a place where young people come to learn how to live the right way, make good choices, be a good neighbor and be their best selves."
GWH's new logo features silhouettes of a young boy and girl reading books beneath a leaning green tree, with a profile of a school building in the background.
Trueline, a Portland-based marketing agency and consultancy, has aided in the organization's rebranding efforts.
Located in Hinckley, Maine, GWH offers dynamic educational resources, therapeutic residential treatment and other services for children and young adults ages 5 to 26.
Programs include the College Step-Up Program, Campus Living Program, the Glenn Stratton Learning Center and the Maine Academy of Natural Sciences, which in 2012 became Maine's first-ever charter high school.
Last month, GWH held a graduation ceremony for 36 students at Moody Chapel in Hinckley. The event drew more than 200 people, including parents, extended parents and GWH staff.
The graduation were preceded by a Senior Night the evening prior, where—per a longstanding school custom—senior students delivered speeches on how GWH and MeANS have impacted their lives.
To learn more about Good Will-Hinckley, go to http://www.gwh.org