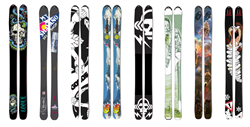 It's kind of crazy that in today's day and age, in which nearly everyone has an 8-megapixel camera in their pocket and easy access to computer design programs, we are still expected to have skis that all look the same."
Ogden, Utah (PRWEB) January 21, 2015
Any graphic. Any design. Any color.
That's the mantra behind GOODE's groundbreaking, industry-first, 100-percent customizable snow ski graphics.
With a newly developed proprietary printing and manufacturing process, GOODE has become the first ski company to give its customers the ability to completely customize their new skis using their own custom artwork, photos and color combinations (view examples here).
"It's kind of crazy that in today's day and age, in which nearly everyone has an 8-megapixel camera in their pocket and easy access to computer design programs, we are still expected to have skis that all look the same," said Dave Goode, founder and president of GOODE Skis. "Not all skiers are alike, so why should everyone's skis have the same graphics? We think people will love the opportunity to express themselves through their own personalized graphics."
GOODE's ability to offer a feature that no other ski manufacturer can stems directly from a close-to-home approach that has defined the company, a long-time pioneer in carbon fiber in snow ski products and one of the most recognized indie ski manufacturers in the sport.
"All of our skis are made by hand right here in Ogden, Utah," said Goode. "Our commitment to small-batch manufacturing here at home gives us the flexibility to do some really unique things, like offering custom graphics and pushing the performance envelope with advanced carbon fiber materials."
Skiers can customize their graphics four ways:

Visit the knowledgeable and helpful experts at one of GOODE's fantastic retail partners, including The Alpine Sport Shop, Buckman's Ski and Snowboard Shops, Mt. Shavano Ski Shop, and The Ski Company. To find the nearest retailer, select "custom graphics" on the dealer map available at goode.com/dealerfind.
Go to store.goode.com and select the desired ski model. Once there, users can use GOODE's Online Ski Designer Tool™ to choose colors, add text and/or pick from a huge library of pre-loaded designs, patterns, images, and logos. They can also upload pictures from their computer, tablet or phone, or even social media platforms such as Instagram and Facebook.
Those experienced with graphic design software such as Photoshop and Illustrator can use downloadable templates included with each product's online store description to create their own designs. Once they've completed their design, they simply purchase the skis and upload their image to complete the process.
Those who'd prefer to leave graphic designing up to the experts can contact GOODE at 1-801-621-2300 x126 and the company will connect them with one of its authorized independent graphic design artists.
Custom graphics are currently available on all skis in GOODE's award-winning lineup, including the popular Sorcerer and Fire models.
Fortunately for skiers who value performance as well as looks, GOODE's skis offer much more than just the ability to design the graphics. They are carbon fiber skis that feature phenomenal performance and off-the-charts lightness. For example, the Fire has been a skiing magazine Tester's Choice two years running and the Sorcerer scored well with Backcountry magazine testers, who noted that it "conjured up a little magic" performed well in and "all turn shapes" and raved about its ability to "bust out any radius turn, any time."
"These skis aren't notable just because you can completely personalize the graphics, they also ski unbelievably well," said Goode. "Once people get a chance to try them, they are blown away by how well they perform. Now you can take a great performing ski and make it look just how you want it."
To learn more about GOODE's custom graphics program, visit goode.com/customgraphics or call 1-888-GO-GOODE.
About GOODE: GOODE Ski Technologies is a privately held snow and water sports company founded by Dave Goode in 1975. Located at the base of the Wasatch Mountains in Ogden, Utah, GOODE is a market leader in carbon innovation. GOODE's snow skis, alpine ski poles, water skis, and water skis boots and bindings are used by the best athletes and supplied to the finest specialty shops throughout the world. For more information, visit http://www.goode.com.