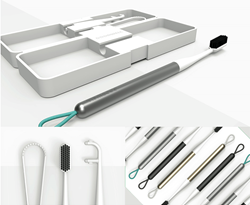 The Goodwell Toothbrush system is a refreshing shift in Oral Care Products.
Portland, OR (PRWEB) October 24, 2014
From now until Nov. 25, Goodwell will be running a crowdfunding campaign to develop the world's first sustainable, open-sourced toothbrush. Hosted on Crowd Supply, the campaign's goal is $12,500, and if successful, the first 100 backers will be guaranteed delivery before Christmas.
Goodwell's ambition is not to create just another toothbrush but a modern oral toolkit designed to be an asset to your everyday routine.
Its inventive design is a premium toothbrush, flosser and tongue scraper all in one. The brush head is made with charcoal bristles. This fiber helps to deflect negative ions, have a powerful deodorizing effect, and remove plaque, a three-prong attack against the causes of bad breath and tooth decay. It also helps prevent harmful bacteria and viruses from growing within the bristles themselves.
Inside the handle, Goodwell has an optional data tracker complete with 3-axis accelerometer and onboard microcontroller. These devices will capture users' – or perhaps importantly their kids' – daily oral hygiene habits via the company's website or mobile app (coming spring 2015).
To promote community innovation and involvement, Goodwell has made these features open-source, granting users the ability to design and utilize their own programs and applications.
This open-source philosophy extends beyond the digital realm, too, as the company is releasing its CAD data containing its proprietary screw thread. This will provide users the freedom to design and develop their own attachment parts, promoting creativity and the sharing of ideas between Goodwell and its community.
This one-of-a-kind toothbrush has been fashioned to be eco-friendly as well. The handle is made of medical-grade anodized aluminum while the attachment parts are produced with a biodegradable bamboo composite. As soon as one begins to deterioration, the user can choose to throw it away or add it to the garden compost.
The company will offer a subscription service for its attachment heads and a life-of-product guarantee, so clients will never have to remember to buy another toothbrush again. This creates not only an eco-friendly product but a sustainable, alternative business model currently lacking in today's oral hygiene market.
The average person goes through four toothbrushes a year for a total of 300 toothbrushes in a lifetime, significantly adding to his or her carbon footprint. In addition to lessening the amount of plastic toothbrushes that go un-recycled in landfills across the world, Goodwell hopes its products and technologies will raise environmental awareness and empower people to make choices that help protect and preserve the planet today and for years to come.
The crowdfunding campaign offers several pledge levels including Just the Toothbrush, Premium, Family 4-Pack and Hacker/Tracker Platinum.
To back the campaign or for more information, please visit https://www.crowdsupply.com/goodwell/toothbrush.
About Goodwell
At Goodwell, we're designing the modern oral toolkit to fit your life. A smarter toothbrush that lasts, looks great, and can be an asset to your everyday routine. Our toothbrush is a supremely minimal and has a modern aesthetic with a sustainable platform that the toothbrush market today is missing. Sustainable because it is made of materials that last but also because it's lifecycle is literally a lifetime, unlike traditional toothbrushes that you throw away 2-4 times a year.