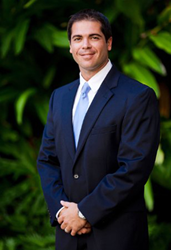 I am still operating as Goodwin Law, P.A., which recently celebrated its first anniversary in Naples, FL..
Naples, FL (PRWEB) September 15, 2016
Attorney Matt Goodwin, founder of Goodwin Law, P.A., was recently named Chair of the Collier County Bar Association's Real Estate Section. Additionally, Mr. Goodwin recently joined forces as "of counsel" to the The Boatman Law Firm.
"The Boatman Law Firm is a litigation boutique, which is a nice compliment to my existing and growing transactional-type practice," said Goodwin, who focuses on real estate, estate planning, and probate. "However, I am still operating as Goodwin Law, P.A., which recently celebrated its first anniversary in Naples, FL."
At the beginning of 2016, Mr. Goodwin was also appointed to the Legal Resources Committee of the Naples Board of Realtors, and was recently invited to serve on the inaugural Small Business Council at the Greater Naples Chamber of Commerce. He was also featured in the fall edition of Naples Realtor Magazine.
Furthermore, on October 1, 2016, Goodwin Law, P.A., will be sponsoring New Horizons of Southwest Florida at the 11th Annual United Way Run & Walk 4 The Way, which takes place at North Collier Regional Park, 15000 Livingston Road in Naples, FL. New Horizons is a non-profit organization dedicated to helping at-risk children and teens who are growing up in an environment of poverty, academic failure and hopelessness. Goodwin is always looking for ways to give back to the community.
About Matt Goodwin, Goodwin Law, P.A.
Matt Goodwin handles real estate closings, title, and escrow services to buyers and sellers of real estate in Florida, trust and estate planning, and probate administration. For more information, please call (239) 207-3403, or visit http://www.FLestatelaw.com. Goodwin Law, P.A., is located at 3021 Airport Pulling Road North, Suite 202, Naples, Florida 34105.
About the NALA™
The NALA offers small and medium-sized businesses effective ways to reach customers through new media. As a single-agency source, the NALA helps businesses flourish in their local community. The NALA's mission is to promote a business' relevant and newsworthy events and achievements, both online and through traditional media. For media inquiries, please call 805.650.6121, ext. 361.