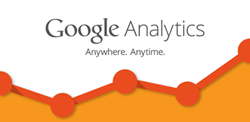 The purpose of the guide is to help companies take the next step in measuring the results of their web marketing campaigns.
Seattle, WA (PRWEB) April 07, 2014
In a recently released article, Fannit, a Seattle based internet marketing company, has taken several of the more advanced Google Analytics processes and explained them in a step-by-step guide.
The Guide is designed to help business owners, marketers, and business consultants glean more granular data within their marketing campaigns and get more quantifiable results.
Google Analytics, a highly popular tracking system used by thousands of businesses, has many tools that go beyond the basic metric and measurement capabilities for which it is often used. These 'deeper workings' of the Google Analytics system often seem too complex and difficult to navigate for beginner and even moderate users.
"The purpose of this guide is to help companies take the next step in measuring the results of their web marketing campaigns," explains the guide's author, Justin White, who analyzes data for internet marketing clients at Fannit.
Being one of the first published guides covering advanced Google Analytics topics, the article offers invaluable information for marketers and businessmen alike. The information is built around the needs of marketing managers and CEOs, who often struggle to find ways of measuring value with web metrics.
As the production lead at Fannit, Justin White is well-versed in the reporting systems of Google Analytics. Throughout the guide, he explains why he frequently uses each of the more advanced analytics reports that are featured in the article and what makes them unique.
In addition, he gives detailed step-by-step instructions for the reader to set up these complex reporting systems themselves for their own clients or business. He highlights the ability to create custom alerts in intelligence events, the use of advanced segments and filters, and profile filters, all of which are invaluable aids in creating and monitoring detailed traffic and source reporting.
"These are the tools that every serious internet marketing campaign needs to be using," Justin affirmed. "They will help companies refine their efforts by informing marketing campaigns more effectively."
About Fannit
Fannit.com is a full service internet marketing agency that helps companies increase their online presence through engaging and well placed content. They service the Seattle area and U.S. based companies with content marketing, SEO, PPC, E-mail marketing, Press Release development, and Website Funnel Optimization.
Fannit
2911 Hewitt Ave
Everett WA 98201
425-359-7989