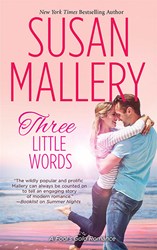 Mallery's newest book, Three Little Words from HQN Books, recently tied for #1 on the New York Times best-seller list for mass-market paperbacks.
New York, NY (PRWEB) August 15, 2013
Google+ and BookTrib.com are collaborating to produce the hottest, new social media author series, LITERARY GOOGLE+ HANGOUTS ON AIR, by hosting New York Times best-selling romance author Susan Mallery live online on Wednesday, August 21, 2013 at 7 pm ET. With more than 25 million books sold worldwide, Mallery is known for creating characters who feel as real as the folks next door, and for putting them into emotional, often funny situations readers recognize from their own lives. With her popular ongoing Fool's Gold series from Harlequin HQN Books, she has reached new heights on the bestseller lists and has won the hearts of countless new fans. Susan grew up in southern California, moved so many times that her friends stopped writing her address in pen, and now has settled in Seattle with her husband and the most delightfully spoiled little dog who ever lived.
Susan Mallery has written more than 100 novels, and her newest book, Three Little Words from Harlequin HQN Books, recently tied for #1 on The New York Times best-seller list for mass-market paperbacks.
And there's more! Eight lucky Susan Mallery super fans will be chosen for this hangout event to appear alongside the author and moderator as thousands of enthusiastic romance readers tune in to watch. For more information on how to enter, visit Susan Mallery's Super Fan page on BookTrib.com. All participants are welcome to submit questions while they view the show on Google+, BookTrib.com or YouTube. The party never ends because after the HANGOUT ON AIR is over, the event will be archived on BookTrib.com for everyone to enjoy forever.
As with all live BookTrib.com events, viewers have the opportunity to register to win books by the participating author. In this case, copies of the three newest Susan Mallery books in the Fool's Gold series - Just One Kiss, Two of a Kind, and Three Little Words - will be given away.
BookTrib.com, powered by the literary publicity firm Meryl Moss Media Relations and known for its fascinating, live online chats with best-selling authors such as Diana Gabaldon, Lee M. Woodruff, Steve Berry, Brad Meltzer, MJ Rose, Laura Munson, Andrew Gross, Lori Foster, Pam Jenoff, and Elin Hilderbrand, is partnering with Google+ to invite even more readers to the party.
Participating is free and easy by following the instructions at BookTrib.com or Google+ Events.