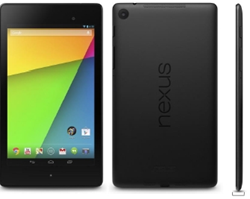 Google Nexus 7 tablets will be available for purchase on Tue, Jul 30 7AM at B&H Photo
NYC, NY (PRWEB) July 25, 2013
Google has announced a new version of the [Nexus 7 tablet, the first to run Android 4.3, with a stunning 1080p Full HD display, 5 MP rear camera, and built-in dual stereo speakers. Nexus 7 brings a premium entertainment experience.
The new [Nexus 7 tablet, developed with Asus, features a more high-resolution screen, lighter design and longer battery. It also adds stereo speakers and virtual surround sound, and will be the first device to feature Google Play Games, the new storefront for games on the Android app store.
[Nexus 7 comes loaded with the best Google Apps—like Chrome, Gmail, Google Now and Hangouts—making it easy to manage the things that matter most.
Android 4.3 adds the ability to set different profiles on a device, including parental controls to limit children's access to certain apps. In addition, it comes with Bluetooth Smart, to support apps that connect to new devices like fitness sensors. The new OS is already rolling out to all Nexus devices, and the Nexus 7 will be available in the US from July 30, for $229.
Access over 975,000 apps and games (including thousands of tablet-optimized titles), the world's largest collection of eBooks, and thousands of movies and TV shows—all in one place on Google Play.
5 MP rear camera, and built-in dual stereo speakers—Nexus 7 brings the premium entertainment experience.
Slim and weighing only 0.64 lbs, Nexus 7 is easier and more effortless to carry along wherever.
System Specifications
Operating System: Android 4.3 (Jelly Bean)
Processor: ∙ Qualcomm Snapdragon S4 Pro 1.5GHz, Quad-Core
Memory: 2GB DDR3
Graphics: Adreno 320, 400MHz
Onboard Storage: 16 GB Flash (NEXUS7 ASUS-2B16)
32 GB Flash (NEXUS7 ASUS-2B32)
Display: 7" HD (1920 X 1200), 323 ppi
Camera: 5 MP Rear w/flash, 1.2 MP front
Wi-Fi: 802.11 a/b/g/n
Audio Built-in stereo speakers
Bluetooth: Bluetooth 4.0
Finish/Color: Black
Tablet Dimensions (in): 7.87" x 4.49" x 0.34"
Tablet Weight (lb): 0.64
Interface: 1 x Audio Jack (Headphone/Mic-in) ∙ 1 x microUSB with Slimport HDMI out Power and Volume buttons
G-Sensor
Sensor: Ambient Light Sensor
E-compass sensor
Gyroscope
Battery: 15Wh, 3950mAh, non-removable polymer battery
Compatible Accessories:
Screen Protector (90XB00KP-BSC010)
Travel Cover-Dark Grey (90-XB3TOKSL001M0)
Travel Cover-Light Blue (90-XB3TOKSL001N0)
Travel Cover-Pink (90-XB3TOKSL001P0)
Travel Cover- Orange (90-XB3TOKSL001Q0)
Travel Cover- Green (990-XB3TOKSL001T0)
B&H Photo is a qualified Google Asus Nexus Authorized dealer with the most up-to-date product information, product pricing and promotional offers. Google Nexus 7 tablets will be available for purchase on Tue, Jul 30 7AM at B&H Photo.
Connect with B&H Photo on the web! (Facebook, Twitter, Tumblr, Google+, Pinterest, Flickr, YouTube, B&H Insights & InDepth)
About B&H Photo Video
As the world's largest source of photography, video and audio equipment, B&H Photo-Video is known worldwide for their attentive, knowledgeable sales force, and excellent customer service, including fast, reliable shipping. Visitors to the website can access a variety of enlightening articles and educational videos. B&H has been satisfying customers worldwide for close to 40 years.