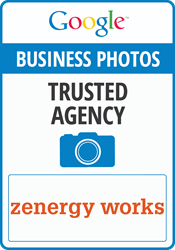 Customer time spent on the page where the Google tours are located has increased 200%.
Santa Rosa, CA. (PRWEB) August 23, 2013
Everyone knows about Google Maps and its Street View feature that enables anyone around the world to explore 360-degree imagery of more than five million miles of roads in 50 countries; however, many business owners are still unaware of one of Google's interior panoramic imagery, powered by the company's Business Photos program.
Much like Street View, these 3D virtual inside tours of businesses are created with a digital camera and a special fish-eye lens that gives people a look inside a business before they visit. Zenergy Works of Santa Rosa, CA has been selected as the first digital advertising agency based in Northern California to provide the professional-level photography required for the Google Business Photos program.
Zenergy Works is an Internet marketing company providing services to small and mid-sized businesses all over the country. Now more than ever, consumers are going online first to check out a business before forking over their hard-won cash. They're reading reviews, checking price lists, and judging the look and feel of websites. Business Photos is one more way to give them a little taste of what you provide. Without leaving the comfort of their home, potential customers can browse your floor or observe the ambiance of your restaurant, for example. It's display window marketing taken to the next level.
Bryan Fikes, co-founder and Chief Strategist of Zenergy Works says "Clients of ours ranging from concert halls to high-performance auto centers have opted to add Business Photos to their Google presence and have embedded the imagery on their websites advertising, and it's definitely raised their game. There's just nothing like being able to see the acoustics of a room, or view a shop full of gorgeous cars. It really adds something extra."
The Vice-President of Merchandise & Marketing at Friedman's Home Improvement, Tony Corsberg, said, "The virtual tour has proved to be a great addition to our website. Customer time spent on the page where the Google tours are located has increased 200%, which tells us people are taking the time to look around our store and brings them a step closer to actually walking through our doors. It's very cool."
Google Maps and Zenergy Works have been working together diligently to ensure the agency's ability to capture imagery for the Business Photos program, and they've reached a partnership. As of this posting, Zenergy Works has signed on with Google Maps to represent them as a Google Business Photos Trusted Agency. Expect more 3D virtual tours of Northern California businesses soon.
Zenergy Works is a full-service Internet marketing company that provides search engine optimization, web design, social media strategy, paid advertising management, and more. Managing Partner and Chief Strategist Bryan Fikes has worked in web design and Internet marketing for over a decade. Photographers interested in being certified as Google Business Trusted Photographers or business owners interested in learning more should contact Zenergy Works for more information: http://www.zenergyworks.com