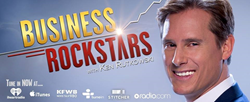 Santa Monica, CA (PRWEB) June 03, 2014
Marketing and Business Guru Jay Abraham, will be interviewed today, Tuesday, June 3rd, at 12PM PST by Business Rockstars' radio host Ken Rutkowski, on a Live Google Hangout. Participants of this public and complementary Google hangout will be able to ask questions live, and interact with marketing genius, Jay Abraham. In addition, attendees will receive a complimentary copy of one of Jay's best selling books. They will be able to choose between: "The Sticking Point Solution" or "Getting Everything You Can Out Of All You've Got."
Jay Abraham is the founder and CEO of Abraham Group, Inc., and has spent his entire career solving problems and fixing businesses. He has significantly increased the bottom lines of over 10,000 clients in more than 400 industries, and over 7,200 sub industries worldwide. Jay has dealt with virtually every type of business. He has studied, and solved, almost every type of business question, challenge and opportunity.
Jay Abraham has an uncanny ability to increase business income, wealth and success. He uncovers hidden assets, overlooked opportunities and undervalued possibilities. This skill set has captured the attention and respect of CEOs, best-selling authors, entrepreneurs and marketing experts. Jay's clients range from business royalty to small business owners. But they all have one thing in common – virtually all of them have profited greatly from Jay's expertise. Many clients acknowledge that Jay's efforts and ideas have lead to millions of dollars of profit increase.
Jay has identified the patterns that limit and restrict business growth. He is an industry leader who enlightens clients that most industries only know and only use one particular marketing approach. He teaches that there may be dozens of more effective and more profitable strategies and options available to them. Jay shows his clients how to take different success concepts from different industries and adopt them to their specific business. This gives Jay's clients a powerful advantage over their competition.
Jay has been acknowledged as a unique and distinctive authority in the field of business performance enhancement, and the maximizing and multiplying of business assets. He has been featured twice in Investors Business Daily – on the front page and in the Leaders & Success section ("Jay knows how to maximize results with minimum effort"). The March 6, 2000 issue of Forbes Magazine called him "The Real Thing" and listed Jay as one of the Top 5 Executive Coaches in the country ("Jay's specialty is turning corporate under performers into marketing and sales whizzes").
Additionally, Jay has been featured in USA Today, New York Times, Los Angeles Times, Washington Post, San Francisco Chronicle, OTC Stock Journal, National Underwriter, Entrepreneur Magazine, Success Magazine, Inc. magazine, and many publications.
About Business Rockstars
Business Rockstars is a weekly radio show for entrepreneurs by entrepreneurs. Every Monday through Friday, 10am-12pm, Ken Rutkowski connects the listener to some of the biggest names in business to share their experience and knowledge of entrepreneurship.
Business Rockstars do not just create game-changing companies, they become a brand. Each show will introduce you to these Rockstars, their business experiences and amazing stories behind them.
Ken Rutkowski has been profiled in the Wall Street Journal, Fox News, BBC, Wired, Business Week and has hosted technology radio shows on CNET, CBS and online.
About 'The Sticking Point Solution'
Businesses can plateau, stall, OR stagnate...without the owners or key executives even realizing it. A business might be achieving incremental year-on-year growth and yet still be in a situation of stagnation or stall. Why? Because entrepreneurs and executives often focus on the wrong things and don't know how to solve the problems that get their businesses stuck.
The purpose of The Sticking Point Solution is to help entrepreneurs and executives recognize the ways in which their businesses may be stuck, and to then give them tools for getting unstuck and enjoying exponential growth. To achieve this, Jay will help one identify the nine "sticking points" that keep entrepreneurs and executives alike grinding just to survive, instead of growing and thriving.
The results: freedom from stagnation and stalling, new levels of profitability and success; and a much greater sense of control and pleasure from running the enterprise. How to achieve this exquisite state is the impetus for The Sticking Point Solution.
About 'Getting Everything You Can Out Of All You've Got'
A trusted advisor to America's top corporations and recognized as one of today's preeminent marketing experts, Jay Abraham has created a program of proven strategies to help one realize undreamed-of success! Unseen opportunities face everyone every day. Using clear examples from his own experience, Jay explains just how easy it can be to find and/or create new opportunities for wealth-building in any existing business, enterprise, or venture.