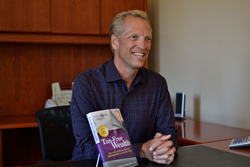 Could Donald Trump at Least be Right when it comes to Tax Policy? ~ Tom Wheelwright, Author (Tax-Free Wealth)
Tempe, Arizona (PRWEB) September 18, 2015
Best-Selling Author (Tax-Free Wealth), CPA and CEO of Provision Wealth, Tom Wheelwright, responds to the GOP Debate this week by asking, "Could Donald Trump at Least be Right when it comes to Tax Policy?" In addition, Mr. Wheelwright raises 3 questions with examples of what these proposed tax changes could mean to the economy and small business.
After watching this CNN Presidential Candidate Debate on September 16, 2015, Wheelwright comments, "Donald Trump certainly has stirred things up in the Republican presidential campaign as he speaks out on Jeb Bush's position on immigration, questions Carly Fiorina's looks and just doesn't like anything about Rand Paul. Women, Hispanics and Libertarians can get pretty agitated by him. Still, Wednesday night's Republican debate started to draw some lines between candidates in one area where Mr. Trump may just have it right and may be the best qualified to talk about it – Tax Policy."
When it comes to tax policy, a majority of the candidates want to abolish the current tax law in favor of a flat tax. Presidential Candidate and Senator Ted Cruz even wants to go so far as to "abolish the IRS." Mr. Trump is one of the few who believes the U.S. should keep the current tax system, increase taxes on the rich, and decrease taxes for the middle class.
In an exchange between Donald Trump and Dr. Ben Carson, Mr. Trump argued that progressive taxes are more fair since rich people have more money, while Dr. Carson suggested that what's fair is for those who produce more to have more money left over to reinvest in the economy.
In order to look at the economic impacts of these proposals, Wheelwright asks 3 key questions:
1. "So who is right? Is the progressive rate structure that is at the heart of tax laws in most
developed countries more fair or should we really go to some form of a flat rate system so everyone pays the same percentage of taxes?"
Those arguing in favor of a flat tax suggest that only with a flat tax is everyone treated fairly. In fact, many of the candidates actually refer to their plan as a "Fair Tax."
Wheelwright digs deeper on whether a flat tax is a "Fair Tax" with this comparison, "Here is the other side of that. Suppose you have two people, one who make $50,000/year and another who makes $5,000,000/year. Dr. Carson would have them both pay 10%, i.e., $5,000 for the person making $50,000 and $500,000 for the person making $5,000,000. While the percentage of total income is the same, the percentage of disposable income (income after basic living expenses) is vastly different between the two. The person who earns $50,000 per year is probably using 80% or more of their earning for basic living expenses. That means they may have $10,000 of disposable income. The person earning $5,000,000 probably has living expenses in the neighborhood of $500,000. So that leaves them with $4,500,000 of disposable income. So, the $50,000/year earner would pay 50% of their disposable income in taxes while the $5,000,000 earner would pay 11% of their disposable income. Still think the "Fair Tax" is fair?"
2. Would a flat tax really eliminate the need for the IRS?
When turning to the GOP Debate candidate's call to "abolish the IRS", Wheelwright assumes their argument is that a flat tax will eliminate the need for complex calculations, and therefore the IRS is no longer necessary. Wheelwright responded, "First, would it really have that effect? The answer is a resounding "NO!" Most of the complexity of the Internal Revenue Code has nothing to do with the average wage earner. In fact, 90% or more of the tax law is focused on one thing and one thing only – how to calculate your income that is subject to tax. A flat tax does nothing to make that job easier. Even if itemized deductions, such as contributions, taxes and home mortgage interest are eliminated, that only reduces the size of the law by a few pages."
3. Do flat tax candidates expect business owners to pay a percent of their gross income?
In addition, Mr. Wheelwright questions, "Do the flat tax candidates expect business owners to pay a percentage of their gross income? That can't possibly be considered fair. It would mean that a business owner with $1,000,000 of sales and is losing money due to paying twice as much tax as a business owner with $500,000 of sales and $200,000 profit. It would certainly drive businesses out of business a lot faster if they weren't successful immediately. As it is, nine out of ten businesses fail."
Even with a simple tax law, could you eliminate the tax collectors? Perhaps someone should ask Greece or Italy where tax evasion is rampant. Their biggest deficit problems come not from pensions but from untaxed revenues. Does the U.S. really want to eliminate the agency that collects the money and rely on everyone to be honest with their taxes? That would be a little like a business eliminating its accounts receivable and billing clerks in the hope that it's customer would just automatically pay its bills. Neither decision is wise.
Wheelwright concludes, "So maybe listening to Mr. Trump at least on this one issue might make a little sense? After all, he is the most successful candidate in business (sorry, Ms. Fiorina – he has you there). And while Trump makes a ton of money, this candidate is willing to part with more of it so that the middle class can get a tax break and the poor don't' end up paying even more taxes."
Media Contact: Liz Kelly, Goody PR, 310-987-7027
ABOUT
Tom Wheelwright, CPA and CEO of ProVision Wealth (Tempe, Arizona), is a leading tax and wealth expert, speaker, published author of Tax-Free Wealth, and a Rich Dad Advisor/Speaker for Robert Kiyosaki, who wrote Rich Dad Poor Dad. He is best known for making taxes fun, easy and understandable, and specializes in helping entrepreneurs and investors build wealth through practical and strategic ways that permanently reduce taxes. He is the Founder of WealthStrategyU, and has been featured in Accounting Today, Investors Business Daily, Deseret News National, and as a guest on the ABC Radio News, AM870 The Answer, Real Estate Guys Radio Show, Money Radio 1510 Business for Breakfast and more. http://taxfreewealthadvisor.com