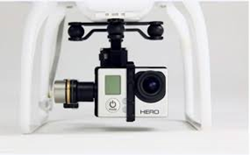 GoPro mounts now come with DJI products to help enable these hobby items to use the video technology with the standalone videos systems that can capture hundreds of hours of flight data
Akron, Ohio (PRWEB) October 03, 2013
The Geekworthy.com website has now announced GoPro discounts online for DJI products at http://geekworthy.com/dji-phantom-quadcopter-with-gopro-mount-review. These discounts are the first in a series of uncovered price drops that are linked to popular retail products online. Regular announcements for consumer price drops are now planned by this company through the close of the year.
The GoPro series of video camera solutions introduced in 2012 has elevated the fledgling hobby industry in North America. The ability to attach digital cameras capturing full-motion video and audio to airplanes, RC cars and quadcopters has helped renew interest in older hobbies.
Quadcopters are one of the hobby items expected to perform well through retail sales this year, according to the information now posted by the Geekworthy company online.
The market for unmanned aircrafts that can be purchased on the consumer market is one element that is contributing to the revival in the RC industry. The attachment of the GoPro series of cameras using DJI mounts is one way that current quadcopter owners are using the video technologies.
"GoPro mounts now come with DJI products to help enable these hobby items to use the video technology with the standalone videos systems that can capture hundreds of hours of flight data," a reviewer for the Geekworthy.com website said.
The current discounts reported for the DJI products is one example of the information that has been announced in the past several months by the Geekworthy reviewers. Planning has been underway since the summer of 2013 to help present price guides and information for holiday shopping to the public online.
"The DJI Quadcopter products discounts is one example of the types of price restructuring that has been revealed through research of top retailers providing announced and unannounced sale pricing online," the reviewer added.
The Geekworthy website is now a complete resource dedicated to technology, hobby and electronic items that are found through trusted retailers online. The company staff now participates in the selection and review process to introduce price data, shipping incentives and other data that is useful to the non-tech savvy public buying online.
About Geekworthy.com
The Geekworthy.com company is a technology resource center authored by professionals in the retail industry who understand and implement technologies to help form the basis of company reviews published online. This company maintains its online presence by publishing helpful reviews and links to retailers online offering incentives for purchasers. The Geekworthy.com company resource is now visited daily by thousands of consumers seeking helpful information before online purchases are made for top technology products. The expansion recognized in 2013 by this company is slated for continuance through the end of the 2014 here as new programs and services are put in place for the public.