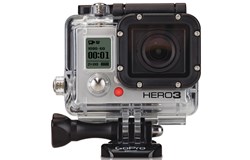 Evan Perry shares, "While the GoPro will never replace professional videography on the field, it does provide a quality, innovative addition to a video that can allow unparalleled access into prev
Boston, MA (PRWEB) December 02, 2013
The GoPro Camera is changing the way in which people view the world. With an assortment of camera mounts, lenses, and applications available, the GoPro Camera offers users an extensive list of photo and video options. As a longtime user and fan of the GoPro, the Boston based video production company McElroy Films LLC, is pleased to announce that the GoPro camera will now be available for use in corporate video productions.
Now a billion dollar company, GoPro originally created the small and durable camera to capture a first person perspective of extreme sports athletes in action, particularly surfing. Though still popular and geared towards extreme sports, the GoPro is emerging as a staple in mainstream video productions. McElroy Films is excited to include the compact camera into the studio's already extensive list of high tech equipment. The new addition will open the doors for corporate clients who are looking to create innovative high impact video that sets their visual content apart ahead of the competition.
McElroy Films premiered the GoPro at their open house in October. The footage captured on the GoPro was edited together with footage captured on the Cannon C300 to create a unique highlight video souvenir for their guests. The small size and functionality of the camera is ideal for use on small and large productions, as it limits the amount of equipment on set as well as the man-power. As an Executive Producer and videographer at McElroy Films, Evan Perry shares the unique advantages of filming in the field with a GoPro; "While the GoPro will never replace professional videography on the field, it does provide a quality, innovative addition to a video that can allow unparalleled access into previously un-filmable and expensive details of a wedding or corporate project." Own and founder, Ben McElroy adds that, "the camera works really well during corporate shoots, because it captures high quality images from an array of perspectives, without a videographer or rig obstructing the integrity of let's say a meeting, presentation, or conference." The GoPro's ability to film with or without a camera operator in unconventional settings and rigging positions invites the viewer to experience a product or experience up close and personally.
The popularly used first person "GoPro" perspective will take the viewer on remarkable and intimate exploration of a product or service. McElroy Films works to push the creative envelope for corporate and wedding videos whilst still maintaining the traditional value of each production. The GoPro camera offers McElroy Films the ability to provide clients with a creative and industry standard video.
With much of the GoPro's success stemming from its diverse usages, McElroy is confidant that the GoPro will excite new and existing corporate clients who are interested in filming enticing new product videos as well as other types of video. Clients will also be able to use the camera as web camera for meetings with clients in remote locations. Clients will have the option to participate in the filming by wearing, holding, or mounting the camera, depending on the footage or mood they hope to capture. As larger companies are opting to create their own in house video production departments, McElroy hopes to neutralize the competition by offering his clients the opportunity to take an extensive hands-on approach to filming and the creative process. McElroy believes that by working with smaller production company, each client can optimize their video and production process so that the final product meets their every need.
If you are interested in contacting McElroy Films, please call 781-229-5900 or visit our site http://www.mcelroyfilms.com.
ABOUT MCELROY FILMS
McElroy Films LLC is an award-winning producer of high definition video for corporate, educational, non-profit, wedding, music video, and independent film use. Serving the Massachusetts and New England area, McElroy Films' mission is to keep high definition video affordable without sacrificing quality. McElroy Films has assisted organizations throughout the Boston area increase their revenues and awareness by drawing in new clients and educating existing ones with concise, effective videos for the web and broadcast.