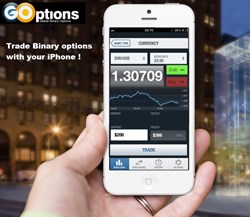 the Android market is simply larger and shows more promise than the limited iOS market
London. UK (PRWEB) October 08, 2013
GOptions has just announced that it has launched an all new iPhone and Android app. After the very favorable response to the initial launch of the company's mobile app for the iPhone, an Android version was introduced to the marketplace on the 27th of August. The company launched its iPhone binary options trading app back in May and it has been a long wait for the huge Android market. But now that it's accessible, it's already making an impact on this industry as the app includes a long list of features not seen before in binary options.
The app allows traders of binary options, a competing market to that of stock and forex traders, to open all types of trades including the incredibly popular 60 second options. For adrenaline junkies in the world of trading this is the frenetic paced trading that most wish to get involved with. The previous version of the iPhone app did not have this available and the company launched the new version with the ability to trade 60 second options first for the Android market.
Just one day after launching the Android app, the company launched an updated iPhone version that also has this feature. This massive update includes the 60 second trading mentioned above but also a number of key features not seen before online. For starter, the company now offers a more visually rich experience. For most of those not used to the world of trading, web based platforms are simply an eye sore. The new trading apps for both Android and iPhones provide binary options traders a graphic enhancement that can't be matched by the web based versions. Add to this the touch features and you have a very interesting trading experience for newbies and experienced alike. Reaction times can be quicker and trades executed with much less effort.
The fact that the company launched this new version first on Android is testament to the market's uptake of the Android platform. According to CTO Gary Procter at the London UK based Goptions, "the Android market is simply larger and shows more promise than the limited iOS market. Although both are growing, Android was more important strategically and as such, it was the decision of the company to show how important it is as a market by launching the new functionality on Android first."