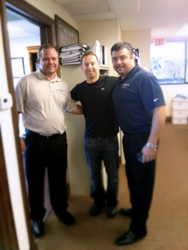 The Hoops4Heroes 3-on-3 tournament will benefit the Wounded Warrior Project®
West Palm Beach, Fla. (PRWEB) November 06, 2014
Scott Fischer, an attorney at South Florida personal injury law firm Gordon & Doner, along with staff members Michael Saint Paul and Jimmy Herron will be participating in a 3-on-3 charity basketball tournament at Palm Beach Atlantic University on Sunday, Nov. 9.
The Hoops4Heroes 3-on-3 tournament will benefit the Wounded Warrior Project® and thus far, team Gordon & Doner has raised over $150 for the cause.
Tip-off is scheduled for 9 a.m. at the Greene Athletic Complex at Palm Beach Atlantic University, located at 1100 Dixie Highway, West Palm Beach, Florida. Playoffs will begin at noon and the final game will begin at 3 p.m. Emerson Lotzia of ESPN West Palm 106.3 will be the master of ceremonies for the event.
The event is free to the public and all veterans, active service members and their families are encouraged to attend.
The goal of Hoops4Heroes is to honor and commemorate wounded combat veterans who are returning home from their final tour overseas. The Wounded Warrior Project (WWP) offers a variety of programs across the country to help veterans overcome their physical and mental wounds. The program has served more than 56,000 men and women and helped 8,000 families in need.
To learn more about the charity event and how you can make a donation, visit http://www.fortheinjured.com.
About Gordon & Doner
For over 30 years, the attorneys of Gordon & Doner have been committed to helping all those who have been injured by the actions or negligence of another person or entity. The West Palm Beach, Florida-based personal injury law firm handles all types of personal injury claims including auto accident injuries, dangerous drug litigation, medical malpractice, product liability claims, premises liability and maritime law. For a free and confidential case evaluation, contact Gordon & Doner by visiting fortheinjured.com or by calling 1 (855) 722-2552 today.
Gordon & Doner
4114 Northlake Blvd.
Palm Beach Gardens, FL 33410
1-855-722-2552