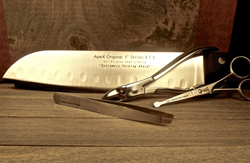 (PRWEB) December 16, 2014
The Dinner Date Kit by GorillaKilla.com is the perfect combination for the perfect date by combining The First Date Kit, the essential men's grooming kit from ApeX, with the man's size ApeX Original 8" Santoku Chef's Knife. As famous chef's the world over say, "you eat with your eyes before eating with your mouth" and looking great while displaying your knife skills is a great start to a great evening.
"After releasing the ApeX Original 8" Santoku Chef's Knife we saw a natural pairing (pun intended) with men's grooming, so we joined forces with the ApeX First Date Kit," says Ken Adams, Founder and Head Gorilla for GorillaKilla.com "Each great by themselves but even better together. Sort of like Jack & Coke or for the sports-minded blokes, Jordan and Pippen."
ApeX has a passion for manufacturing instruments that cut, slice, trim and pluck by using the finest metals available coupled with individual hand finishing by experienced craftsmen right here in the United States at a better than competitive price.
"Drawing a direct parallel with the well-groomed modern male and men whose cuisine reigns supreme in the kitchen; we knew this combo would not only be great together but would make for even greater first dates," says Adams.
GorillaKilla created the all-purpose chef's knife with an 8" blade to fit a man's larger hand while producing one of the sharpest blades ever released in the industry for truly professional results offered at a fraction of the price of German, Swiss and Japanese competitors.
The First Date Kit offers the very best in men's grooming essentials wrapped in a top grain leather travel pouch for the guy on the move.
Oh, one more thing, no one will have to wait too long to get a Dinner Date Kit with free Priority Shipping in the US.
To learn more or purchase the Dinner Date Kit, please visit http://gorillakilla.com/dinner-date-kit-apex-free-priority-shipping-us.
About GorillaKilla.com
Ken Adams founded GorillaKilla to help the hairy male navigate the waters of the modern dating, social, and professional scenes. In the early 2000's, newly single and in NYC, Adams found that expectations on the dating scene had changed. Hairy men were now expected to groom themselves and remove excess hair. After trying waxing, salons, and other treatments, Adams decided to found GorillaKilla to help other men groom themselves through simple, practical methods and products.
GorillaKilla.com launched late 2013 to share how-to videos, informational articles, and other content. The site also features an online store of the best, quality assured male grooming products. To learn more, visit http://www.GorillaKilla.com.