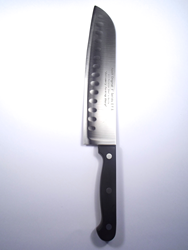 (PRWEB) December 03, 2014
GorillaKilla.com is proud to announce its first foray outside of men's grooming with the ApeX Original 8" Santoku Chef's Knife.
It took several years of development to create the ApeX E.F.S. Chef's Knife. The GK team wanted to create an all-purpose chef's knife that was not a one-size fits all but a knife sized for a man's larger hand. With that in mind, GorillaKilla.com gave the knife an 8" blade as opposed to the more typical 7" Santoku blade. Ask any woman and they will tell you, one inch can make a huge difference.
"When creating the ApeX Original 8" Santoku Chef's Knife our ingredients never included smoke and mirrors with a dash of Ginsu," says Ken Adams, Founder and Head Gorilla of GorillaKilla.com. "Like all truly great knives you will need to sharpen your ApeX Original 8" Santoku Knife occasionally and unlike our competitors offering knives that cost 4x more we don't claim our knife belongs in MOMA, but it does deserve a place in your kitchen."
ApeX has a passion for manufacturing instruments that cut, slice, trim, and grip by using the finest metals available coupled with individual hand finishing by experienced craftsmen right here in the United States at a better than competitive price. Whether it's offering the best tools and advice in men's grooming or helping gentlemen perform at a high-level in the kitchen, GorillaKilla.com is here to help.
GorillaKilla.com wanted to create a knife that was among the sharpest in the industry for truly professional results. After achieving that razor sharpness along with numerous finger cuts and pet names not suitable for a professional announcement, we coined it the E.F.S. (Extremely Forking Sharp) as kind of a light-hearted but real warning about handling the knife.
"Our knife is not a temperamental piece of jewelry that you only take out for viewings at special events," says Adams. "We are the Jeep in the battlefield not the Range Rover at the polo match and similar to a Jeep, you will come to appreciate our ApeX knife's design by it proving its unique utilitarian prowess and reliability in the kitchen."
Finally, all of these great ideas, engineering, and craftsmanship mean absolutely nothing if GorillaKilla could not offer this knife at a fraction of its high-priced German, Swiss, and Japanese competitors. In fact, the ApeX Original Chef's Knife performs as well or better than knives costing 2-4 times the price and like all ApeX Products the ApeX Original 8" Santoku comes with a lifetime guarantee against manufacturer's defects.
To learn more or purchase the ApeX Original 8" Santoku Chef's Knife "E.F.S." please visit https://gorillakilla.com/apex-original-8-santoku-chefs-knife-efs.
About GorillaKilla.com
Ken Adams founded GorillaKilla to help the hairy male navigate the waters of the modern dating, social, and professional scenes. In the early 2000's, newly single and in NYC, Adams found that expectations on the dating scene had changed. Hairy men were now expected to groom themselves and remove excess hair. After trying waxing, salons, and other treatments, Adams decided to found GorillaKilla to help other men groom themselves through simple, practical methods and products.
GorillaKilla.com launched late 2013 to share how-to videos, informational articles, and other content. The site also features an online store of the best, quality assured male grooming products. To learn more, visit http://www.GorillaKilla.com.