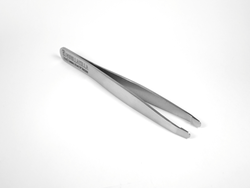 (PRWEB) May 20, 2014
GorillaKilla.com, the website established to assist in grooming the hairiest of men, proudly unveils its latest project – TweezerWorld.com.
Solely dedicated to selling the finest quality tweezers, not the largest quantity, TweezerWorld.com offers high quality tweezers for men and women. Why the new site? Founder Ken Adams explains it's because of the demand he received from women after reading and using the tweezers he created for men on GorillaKilla.
"The performance of the ApeX tweezers on GorillaKilla inspired me to do this," says Adams. "Women would call me up and ask 'Hey, is this something I can use?' Absolutely."
TweezerWorld.com is the first tweezer-dedicated site for men and women. Adams created tweezers explicitly for ear hair and eyebrows that don't work in a pinching manner thanks to their round tip.
"I decided to create a men's website based on the fact that I couldn't find any good grooming products for men that were convenient, economical and painless," says Adams about GorillaKilla.com. "I created TweezerWorld because a lot of women were buying a lot of our ApeX Original Round Tip tweezers from GorillaKilla.com.
Tweezer World takes the quality over quantity approach. Online shoppers will only find the best tweezers from manufacturers in the US, Japan and Switzerland. The site doesn't carry every tweezer in the world – just the ones that work.
Anyone purchasing a tweezer from the new site will receive a free top grain leather sheath with every purchase. There's also a lifetime guarantee for manufacturer defects on ApeX products, the GorillaKilla brand.
About GorillaKilla
Ken Adams founded GorillaKilla to help the hairy male navigate the waters of the modern dating, social, and professional scenes. In the early 2000's, newly single and in NYC, Adams found that expectations on the dating scene had changed. Hairy men were now expected to groom themselves and remove excess hair. After trying waxing, salons, laser hair removal and other treatments, Adams decided to found GorillaKilla to help other men groom themselves through simple, practical methods and products.
GorillaKilla.com launched late 2013 to share how-to videos, informational articles, and other content. The site also features an online store of the best, quality assured male grooming products. To learn more, visit http://www.GorillaKilla.com.