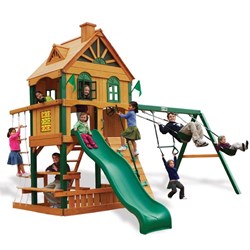 West Des Moines, IA (PRWEB) January 23, 2014
Totally Swing Sets is pleased to announce that Gorilla Playsets are now for sale at major markdown prices through Feb. 3. All Gorilla Playsets in stock have been marked down up to $400 off of their retail prices.
Among the models on sale include the Blue Ridge Woodbridge. The Gorilla Woodbridge is a large and adventurous swing set that will provide hours of fun to kids of all sizes. They won't be able to resist climbing the rock wall, rope ladder, or safe entry ladder to the 24-square-foot platform that is semi-enclosed and has working windows with shutters. It is covered by an attractive roof with dormers, a chimney, and a sunburst design. Kids will enjoy running across the clatter bridge to the connected look-out tower, then sliding down the wave slide or tube slide.
Buyers also can check out the Sun Valley II model. Designed with older kids in mind, the Sun Valley II has everything they could want and much more. Centered around a 4-by-6 covered play platform, this play set has an abundance of Gorilla's most popular features including the rock wall with climbing rope, trapeze swing, and extreme wave slide. In addition, it comes with the deluxe rope ladder and not just a step ladder but a metal rung ladder, too.
Gorilla has been in the business of play sets and swing sets since 1992 and their team of engineers strives to provide the most sturdy, creative, and safe play systems on the market today. Specializing in ready-to-assemble play sets, when ordering one of the Gorilla Playsets a customer not only gets pre-treated, quality wood components but he or she also gets all of the required hardware along with clear, colorful, easy-to-read instructions.
Totally Swing Sets is a total online playground and source for quality swing sets and accessories. With an extensive selection of all types of swing sets and accessories, Totally Swing Sets has something for everyone. A commitment to low prices and excellent customer service are two reasons to make us a great choice in online swing set retailers.
Operating out of West Des Moines, Iowa, Totally Swing Sets provides an abundant selection of swing set choices that fit every price range and will look great in any backyard. Totally Swing Sets puts them all in one easy-to-navigate location that allows for comparison between products and prices. Customers can choose from a variety of swing set brands that are some of the most well-known and trusted in the industry, including Gorilla, PlayStar, and Backyard Discovery.
For more information, visit our website at http://www.totallyswingsets.com or call 800-866-3077.