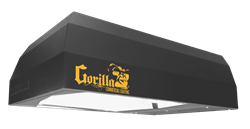 The Gorilla DE Pro Series is going to be the new gold standard in commercial grow lights.
SANTA ROSA, Calif. (PRWEB) September 17, 2019
Grow Strong Industries has introduced Gorilla Commercial Lighting and their 1000w Gorilla DE Pro Series grow light, designed to withstand the rigors of the ever-growing commercial cannabis cultivation industry.
The low-frequency square wave design of the Pro Series DE ensures stable power resulting in optimum PPF, less depreciation of output, and increases the lamp's lifespan by 50% when compared to more common high-frequency sine wave ballasts. Perhaps most importantly, the Gorilla Pro Series DE boasts a failure rate of less than 0.1%, which translates to less labor, less downtime, and higher profit margins.
Almost all standard sine wave fixtures operate at a high frequency of roughly 120,000 hertz. Square wave ballasts, on the other hand, run at about 120 hertz, so the maximum voltage is provided to the lamp for a longer period of time. This produces more photons for your plant, eliminates RF interference, and produces less stress on the fixture, which improves the performance of the lamp and allows it to run cooler. All this adds up to a more reliable, better performing grow light.
"The square wave technology in the Gorilla DE Pro Series is considerably more expensive to produce, but when you're a commercial facility, the reliability of your fixtures is absolutely vital to the success of your business," said Gorilla CEO Rory Kagan. "We want to ensure that our customers are set up for success. Square wave technology puts so much less stress on these fixtures, it increases the lifespan of your bulbs by 50% and the failure rate drops to nearly nothing. In an industry where a single failure can be catastrophic for your harvest, this is a real game-changer. The Gorilla DE Pro Series is going to be the new standard in commercial grow lights."
Gorilla's DE grow light sports an optimized reflector design for broad, even PPFD throughout the footprint with no hot spots, and a durable powder-coated enclosure ensuring correct reflector form factor and eliminating the potential for scorching hot, exposed metal that can often plague DE grow lights. Additionally, the internal components are silicon coated to protect against humidity and dust, and the overengineered heatsink and properly designed thermals ensure the light will run cooler than any other DE on the market.
As with all of Gorilla's products, the Gorilla Pro Series DE grow light is backed by their industry-leading customer service and grow support from their team of experts.
The 1000w Gorilla Pro Series DE will be available in the fourth quarter of 2019. You can sign up for more information and updates at gorillagrowtent.com.