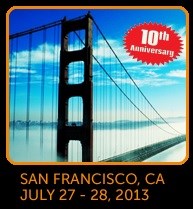 San Francisco, CA (PRWEB) July 23, 2013
Gorilla Grow Tents will be positioned in booths #839 and #841 on the main row of exhibition space. Gorilla Grow Tents are made for professionals but still perfect for beginners. Weighing in as the tallest, strongest, and thickest grow tent, the Gorilla Grow Tent product line is the best-selling grow tent on the market today. The most striking feature of the Gorilla Grow Tent is the height adjustable tent structure. A user can easily extend their tent from 7ft. up to 8ft, 9ft even up to 10ft with the patent pending tent extension feature. The benefit to customers is to increase their grow space almost instantaneously. Another design feature is the easy to open doors for easy access to the growing area, multiple exhaust ports for running ventilation through the tent, and multiple cord port holes to run electrical cords to power sources. The extremely thick fabric that comprises the tent, keeps noise, odors and light in and pests and diseases out. The indoor gardening show in San Francisco, CA will give attendees the ability to see, touch and feel the best grow tent in the industry; the Gorilla Grow Tent.
The two-day Indoor Garden Expo event begins Saturday, July 27th . Doors will be open to the industry only from 10 a.m. to 6 p.m. giving industry attendees and exhibitors plenty of time to interact, network and do business. Sunday, July 28th the expo will be open to the general public from noon to 5 p.m. giving exhibitors and Gorilla Grow Tent the opportunity to educate and show firsthand the benefits of their products to enthusiastic gardeners.
For more information on Gorilla Grow Tent's product line go to http://www.gorillagrowtent.com