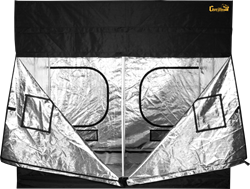 San Francisco, CA (PRWEB) January 17, 2014
No longer does a hobby grower have to be skilled in construction or handy with tools; indoor grow tents can be set up in less than an hour and function just like a constructed grow room. Grow tents and especially the new Gorilla Grow Tents is constructed with exhaust holes, reflective material and doors and windows. Gorilla Grow Tents are made for professionals but still perfect for beginners. The most striking feature of the Gorilla Grow Tent is the height adjustable tent structure. A user can easily extend their tent from 7ft. up to 8ft, 9ft even up to 10ft with the patent pending tent extension feature. The benefit to customers is to increase their grow space almost instantaneously. Another design feature is the easy to open doors for easy access to the growing area, multiple exhaust ports for running ventilation through the tent, and multiple cord port holes to run electrical cords to power sources. The extremely thick fabric that comprise the tent, keeps noise, odor and light in and pests and diseases out. This is extremely important since pests and diseases can significantly reduce the amount of fruits and vegetables harvested from a grow tent and indoor garden. In addition, light leaks and odor can cause discomfort in dwellings where a grow tent set-up is adjacent to a high trafficked area.
Gorilla Grow Tents are made to with safety in mind as the fabric is fire and tear resistant.
The size optimization design is framed by the all steel pole structure of the tent. Gorilla Grow Tent customers will feel safe and secure as the Gorilla Grow Tents will not collapse like other flimsy grow tents in the indoor garden industry. In addition, the Gorilla Grow Tent's size optimized product suite enables them to actually act more like a grow room than just a grow tent. Go to http://www.gorillagrowtent.com for more information on pricing, sizing and availability.