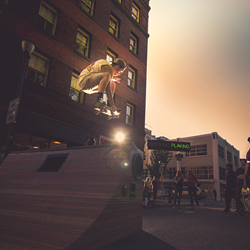 We are honored and proud to have been able to host such an important event that has a direct effect in helping support our local community
Portland, Oregon (PRWEB) August 05, 2014
Held on Saturday, June 21, IDL Worldwide's Gallery 135, a creative resource for the Portland creative community, partnered with Skate Portland for Go Skateboarding Day, a city-wide celebration and fundraiser to help promote and support the local skateboarding community. Fundraising efforts continued two weeks later on Thursday, July 3, with a First Thursday gallery auction event. IDL is pleased to announce that $4,000 was raised as a result of the combined fundraising efforts.
Over 2,500 participants attended the Go Skateboarding Day event, which included families and attendees of all ages, including skateboarders, artists, designers and photographers. To the delight of skateboarders and spectators alike, NW Park Ave was shut down and transformed into a mini skate park that featured a quarter pipe with a surfacing made of recycled skateboards, crafted by Maple XO and a built-in sound system, donated by Case of Bass.
Jake Pacheco, IDL Creative Lead and Curator at Gallery 135, explains, "The events were a huge success and we couldn't be more pleased with the outcome. We are honored and proud to have been able to host such an important event that has a direct effect in helping support our local community. We are already starting to plan to make this even better for next year."
For more information, contact Allison Duval, Marketing Communications Coordinator at aduval(at)idlww(dot)com.
About #GOSKATEPDX:
In 2009, The Wall Street Journal described Portland, Oregon as the skateboarding capital of the world for its comprehensive plan to build a network of 19 skate parks throughout the city. #GOSKATEPDX seeks to increase awareness and raise funds for completing this goal and bettering the Portland community by partnering with Gallery 135 and IDL Worldwide for its 2014 event.
About Gallery 135:
Gallery 135 (http://www.gallery135.com), serves as a home for IDL Worldwide, Crack and Satori Engine — all members of the Matthews Brand Solutions global family. By bringing together creative thinkers, artists, designers, strategists and ethnographers, Gallery 135 provides a platform for new ideas to present themselves to the world. Open every First Thursday and for special engagements including instructional classes and lectures.
About IDL Worldwide:
IDL Worldwide (http://www.idlww.com), part of Matthews Brand Solutions, is a global retail design and project management services firm that delivers strategy, creative, execution and reporting of in-store marketing programs that range from temporary graphics to store fixtures. With Brand Centers in Pittsburgh, PA and Portland, OR, and offices in San Francisco/Oakland, Chicago, Mexico, Germany, Brazil and China, IDL's retail-centric approach spans from generating brand strategy to fabricating brand solutions.