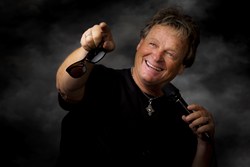 The Aug. 16 & 17 Seattle-area concerts are being recorded on multi-track audio and broadcast-quality video.
Seattle, WA (PRWEB) August 07, 2013
An eclectic group of Gospel and Christian artists will share a Seattle-area stage to celebrate friendship, common musical influences and their shared faith. The August 16 and 17 concerts featuring Bryan Duncan, Bob Carlisle, Tata Vega, Yvette C. Williams and Tony Hooper will be recorded on broadcast-quality video and multi-track audio.
Duncan has released 14 solo albums, three with the NehoSoul Band and six with the Sweet Comfort Band. He has sold in excess of 1.2 million records and videos. He's had 16 No. 1 Christian radio hits.
Bob Carlisle is best known for his song "Butterfly Kisses," which sold more than 2 million copies, was a number one song on Adult Contemporary radio, won a Grammy Award for Best Country Song and a Dove Award for Song of the Year.
Tata Vega released four acclaimed Motown albums and sang the part of Shug Avery in the motion picture "The Color Purple" before becoming a renowned session and background vocalist. The new film "Twenty Feet From Stardom" explores the lives of Vega, Darlene Love, Merry Clay, Lisa Fischer and Judith Hill - some of the world's most notable background singers.
Gospel luminary Yvette C. Williams is a featured vocalist in the Kurt Carr Singers who have won nine Stellar Awards. Her powerful vocals helped make "In The Sanctuary" one of the most-loved worship songs in African-American churches. Willams has shared the stage with Kirk Franklin, Fred Hammond, Donnie McClurkin, Yolanda Adams, Stevie Wonder, Mariah Carey, Natalie Cole, Aretha Franklin and Gladys Knight.
Tony Hooper is music pastor and a founding member of Blues Counsel, a Delta Blues band that is popular on the Christian festival circuit. He is a featured artist and musical director for the Aug. 16 and 17 concerts, which will be held at ExperienceChurch.tv, an innovative, high-tech church in Puyallup, Washington.
Duncan invited Carlisle, Vega, Williams and Hooper to record with him, each artist doing live versions of their own music and songs from the '60s, '70s and '80s that influenced them, including a tribute to Andraé Crouch. Duncan is raising some of the recording costs for the project on a popular crowdfunding site.
Duncan uses social media and crowdfunding to fuel a new model that allows him to connect directly with his audience, bypassing traditional record labels. Duncan has the creative freedom of an independent artist but is still able to compete with the big record companies for radio airplay and media coverage. He streams his new album Conversations at SoGoodForTheSoul.com, allowing people to listen to the entire album for free. Duncan also recorded the I See You Video live, unplugged style, at Palmtree Productions' 4,000-square-foot facility in Tupelo, Mississippi.
Seattle-area producer and philanthropist Christopher Redner developed the model Duncan uses and is producing the concerts and recordings.