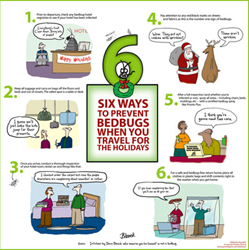 They Don't Have Wings, But Bed Bugs Fly, Too!
Merrick, New York (PRWEB) December 28, 2013
Bed bug exterminators on Long Island, GotchA! Bed Bug Inspectors, urge fliers to take necessary precautions to protect against bed bugs, this holiday season. The holiday season is the prime time for both domestic and international travels. People, across America, look forward to traveling to see their families and loved-ones, packing luggage and carry-ons with presents and thick clothing. The chaos of this time has travelers double-checking itineraries and stressing about ticking clock. However, GotchA! Bed Bug Inspectors' specialists warn that there is much more to worry about when flying this holiday season, specifically the transfer and spread of bed bugs.
GotchA! Bed Bug Inspectors are renowned across the nation for their expertise in everything bed bug-related. Covering Long Island's Nassau and Suffolk Counties, as well as New York City's five boroughs, this specialty company has been servicing the New York Metropolitan with Expert Bed bug service. The reputation is so sound that Michael Colongione, owner of GotchA! Bed Bug Inspectors, has been featured in several articles, appeared in news clips, and is the spokesperson for a popular bed bug repellent.
Bed bugs (Cimex lectularius (Cimicidae) are wingless, "blood-suckers" made their presence known to America, taking the limelight, about 6-8 years ago, as they became more widely spread. Contrary to popular belief, these insects are not parasites, but just similar in size, which makes them difficult to spot and get rid of.
GotchA! Bed Bug Inspectors state that airports and airplanes are prime environments for spreading. Although bed bugs require a warm environment for survival, they can find the warmth on clothes, blankets and other materials. The close-quarters of an airplane make it easy for bed bugs to move from one host to another, while the same can be said for the close proximity of luggage. Bed bugs breed effortlessly, laying hundreds of eggs, which can quickly evolve into an infestation. Not only are they a nuisance, but the saliva, from their bites, is reported to be extremely itchy and in the event of prolonged exposure to the bites, can cause dangerous allergic reactions.
To keep the holiday season free of bed-bugs, the experienced and knowledgeable professionals at GotchA! Bed Bug Inspectors provided a few pointers for travelers. To prevent the spread of bed bugs via luggage, it is suggested travelers spray the inside and outside of their luggage with a bed bug repellent. However, it is most important to pay close attention one's surroundings. While on the plane, look for signs of bed bug skin/shells or eggs. Another indicator could be red or brown streak on seats or even your seatbelt. It is also important to examine clothes and other materials, once they have been unpacked. And in the event of a positive, bed bug identification, speak to an airline agent and/or call an expert like GotchA! Bed Bug Inspectors. 'Tis the season to be giving, but bed bugs are one present no one wants to receive.