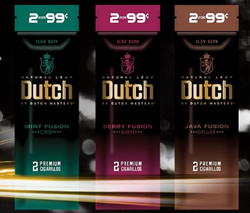 Dutch Masters brings a completely new dimension to cigarillos that fuses unique blends of flavors.
Miami, FL (PRWEB) August 12, 2014
Gotham Cigars now carries Dutch Master Cigars latest flavor fusion cigarillos, Dutch by Dutch Masters. These natural leaf wrapper little cigars feature new flavor fusion combinations of Berry, Mint and Java. They are the latest flavored cigars innovation from old school cigar maker Dutch Masters.
GothamCigars.com already carries a large selection of Dutch Masters cigars including Dutch Masters Palma Foil, President, Corona, Dutch Masters Cigarillos Upright and many others.
The Dutch Master brand has been on the market since 1911 and it has become one of the most popular and favorite cigar brands in the United States. Dutch Masters little cigars are produced by Altadis, a tobacco manufacturer known for the production of world famous brands such as Montecristo, Rome y Julieta and H. Upmann. Dutch Masters Cigarillos are available in a variety of tobacco leaf wrappers and flavors. Dutch by Dutch Masters little cigars feature a smooth blend of tobacco rolled in 100% natural leaf wrappers. Adding the Dutch by Dutch Masters to its selection of natural leaf wrapped cigarillos, Gotham Cigars is excited to bring this innovation to its customers. The Dutch Masters Cigarillos are now available with a completely new package design and different flavor experience stepping out of the traditional flavored cigars on the market.
The Dutch Masters Cigarillos Berry Fusion Burst is a combination of 100% natural blended tobaccos rolled in a mild Ecuadorian Sumatra leaf. It has the aroma of lush berries and a sweet honey flavor. Dutch Masters Cigarillos Mint Fusion Crisp is a flavored cigar rolled in a Candela leaf wrapper. This produces a slow burn with a fresh crisp mint aroma. The Dutch Masters Java Fusion Deluxe Cigarillo completes the unique fusion concept. These flavored little cigars offer a rich taste of coffee and chocolate blended with smooth tobacco rolled in a broadleaf wrapper.
Creating this unique fusion concept of three stimulating flavors of berry, java and mint, signifies a new direction for Dutch Masters. ''Dutch Masters Latest Fusion cigarillos represents a revolution in taste and a departure from the traditional flavored cigarillo category," says Manny Balani, President of Gotham Cigars.'' They bring a completely new dimension of flavored cigars that fuses unique flavor blends. Even the packaging is a big change from their other cigarillo products. It's fresh, convenient and looks great.''
GothamCigars.com carries a wide range of Dutch Masters Cigarillos with different flavors at the lowest prices online. To find out more about selection of Dutch Masters cigars visit: https://www.gothamcigars.com/dutch-masters-cigars/.
About Gotham Cigars:
Miami based Gotham Cigars owns and operates http://www.GothamCigars.com, a retailer of premium and machine made cigars, humidors, and cigar accessories since 2001. Gotham Cigars has built a stellar reputation among cigar aficionados based on five star customer service, a giant selection cigars at the lowest pricing and some of the fastest shipping in the industry. The company prides itself on being a favorite destination for buying cigars and accessories online.