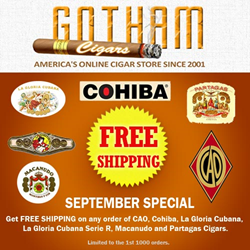 ''We look forward to our customers being able to try these premium cigar brands without having to pay for shipping. ''
Miami, FL (PRWEB) September 09, 2014
Gotham Cigars is renowned for providing their valued customers the freshest and the highest quality premium cigars at the lowest prices. For September, the company has decided to allow their customers to explore their large selection of premium cigars with complimentary shipping. "We look forward to our customers being able to try these premium cigar brands without having to pay for shipping," says Manny Balani, owner and chief cigar aficionado of Gotham Cigars. "It's an early Holiday gift for our loyal customers." This limited offer includes any box of premium cigars from the most popular cigar brands such as CAO, Cohiba, La Gloria Cubana, La Gloria Cubana Serie R, Macanudo and Partagas Cigars. Gotham customers should appreciate that there is no minimum order amount set for these selected cigar purchases.
Gotham Cigars isn't just focused on low prices though. They are consistently offering special added value promotions such as complimentary lighters and cigar samplers to reward their customers for their loyalty. In addition to September's no cost shipping cigars deal on selected brands, GothamCigars.com already offers gratis shipping on orders over $150.00 or more. GothamCigars.com also provides monthly specials offering discounts and special offers for machine made cigars, premium cigars, cigar humidors and cigar accessories. In addition to gifts and discount coupons, they also have a number of buy 1 get 1 free specials every month.
This month GothamCigars.com is blazing with unbeatable specials such as a complimentary Xikar Jet Flame lighter (retail value $40.00) when purchasing any box of Rocky Patel Freedom cigars. Or get a Tempus 5 Cigar Sampler (retail value $46.00) when purchasing any box of Tempus Cigars. Quantities are limited for these specials so buyers will want to act fast to get in on the deals and savings. To find out more about other Gotham Cigars monthly specials, visit:
https://www.gothamcigars.com/coupons/.
About Gotham Cigars:
Miami based Gotham Cigars owns and operates http://www.GothamCigars.com, a retailer of premium and machine made cigars, humidors, and cigar accessories since 2001. Gotham Cigars has built a stellar reputation among cigar aficionados based on five star customer service, a giant selection cigars at the lowest pricing and some of the fastest shipping in the industry. The company prides itself on being a favorite destination for buying cigars and accessories online.