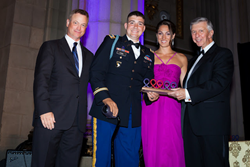 Los Angeles, CA (PRWEB) June 19, 2014
Hope For The Warriors® is excited to announce the honorees for the Got Heart, Give Hope® Celebration to be held aboard the Battleship IOWA on July 24, 2014. Actor Gary Sinise will be the guest host and speaker for the special event. The highlight of the evening will be the presentation of Hope & Courage Awards to wounded service members, veterans, and military caregivers. Tickets for the event can be purchased at http://www.pacificbattleship.com/gotheart. All proceeds from the evening will benefit three nonprofit organizations, Hope For The Warriors®, Battleship IOWA, and Puppy Jake Foundation.
Sinise will present Hope & Courage Awards to service members and military families who have demonstrated both hope and courage. The three nonprofits, along with attendees, will honor the courage of each award recipient, focusing on the hope they inspire through their remarkable stories of recovery and achievement.
Sinise is famous for his movie and television roles. He earned an Academy Award nomination for his role as Lt. Dan in Forrest Gump. Sinise won the Golden Globe for his portrayal of Harry S. Truman in the movie Truman, and an Emmy Award for his role as George Wallace in the television film, George Wallace. Sinise is also known for his appearances in the movies Apollo 13 and Ransom, and the television show, CSI: NY.
Beyond his roles on the big and small screens, Sinise is a strong and tireless advocate for service members and military families. He is the founder of the Gary Sinise Foundation and supports multiple causes and nonprofits to support the needs of military families across the country.
About the Honorees:
Petty Officer 2nd Class Taylor Morris, USN and Danielle Kelly
Petty Officer 2nd Class Taylor Morris, USN, was severely wounded in Afghanistan in May 2012 and lost both legs, his left arm, and his right hand. Morris, and his longtime girlfriend Danielle Kelly, gained fame and recognition thanks to a Buzzfeed article titled "A Love Story in 22 Pictures," which captures years of their relationship, both before and after Morris's injury in Afghanistan. Each step in his recovery has required physical and emotional strength that challenged this young couple, but Morris has become a champion for others. He was one of the service members highlighted in a video to support those injured in the Boston Marathon bombings.
Captain Nick Kalt, USMC (Ret.)
Wisconsin native and southern California resident Nick Kalt takes tenacity to a new level. After graduating from the U.S. Naval Academy, Kalt was stationed at Camp Pendleton when he witnessed the atrocities of 9/11. During his training in 2002, he lost the fingers on his right hand when a primer detonated in his hands and was unable to deploy with his fellow Marines. After focusing intently on his recovery, Kalt deployed to Iraq in 2004, leading a unit that checked buildings for insurgents and collected materials used to create IEDs. On November 22, 2004, he was hit with a bullet and spent weeks in the hospital.
Now medically retired, Kalt is a firefighter in Long Beach, California. He is the lead mentor for Leadership Under Fire, Inc., an organization that develops firefighters and fire officers through conferences, presentations, and training programs that promote discipline and leadership.
Carissa Tourtelot
Carissa Tourtelot has an undergraduate degree in public relations and extensive work within the field. But when her husband was wounded in action, Tourtelot charged forward on a new path to support his recovery. She returned to college to earn her Master in Social Work degree with a Sub-Concentration in Military Programs & Veteran Services from the University of Southern California in 2013. She excelled in this program as a Dean's Scholar, member of the Phi Alpha Honor Society, and recipient of a Hope For The Warriors® Spouse/Caregiver Scholarship – all while working full-time as a military caregiver. Tourtelot currently works for the U.S. Marine Corps' Wounded Warrior Regiment as a Recovery Care Coordinator at Camp Pendleton.
Other highlights from the evening include a tour of the Battleship IOWA, cocktail party, silent auction, and more. For more information about the 2014 Got Heart, Give Hope® Celebration, including sponsorship opportunities, please contact Sarah Duerr (sduerr(at)hopeforthewarriors(dot)org).
About the Nonprofits:
The mission of Hope For The Warriors® (http://www.hopeforthewarriors.org) is to enhance the quality of life for post-9/11 service members, their families, and families of the fallen who have sustained physical and psychological wounds in the line of duty. Hope For The Warriors® is dedicated to restoring a sense of self, restoring the family unit, and restoring hope for our service members and our military families.
The USS Iowa was commissioned in 1943 as the lead ship of her class, and quickly joined America's all-out struggle for total victory over the Axis forces. Her teak decks, staterooms and steel bulkheads echo the words and deeds of those who made history: three U.S. Presidents, six of the nine American five-star military officers, countless foreign leaders, and most importantly, generations of her own sailors. Since July 2012 IOWA has welcomed nearly 400,000 visitors to the Los Angeles Waterfront, generating awareness and appreciation of the region's colorful history and its many contributions to America's economic and military strength. Battleship IOWA is open to the public daily from 10:00 a.m. to 5:00 p.m.
The mission of Puppy Jake Foundation is to improve the physical and emotional well-being of wounded military veterans through well bred, socialized and professionally trained service dogs. Puppy Jake Foundation is a 501(c)(3) nonprofit organization dedicated to helping military veterans through the assistance of well bred, socialized and professionally trained service dogs.
Hope For The Warriors® (Federal Tax ID 20-5182295) is a 501(c)(3) tax-exempt charity as defined in sections 509(A)(1) and 170(B)(1)(A)(VI) of the Internal Revenue Code. Combined Federal Campaign, CFC #27800.