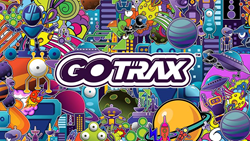 Denver, CO (PRWEB) September 08, 2017
Consumer electronics startup GOTRAX™ has made its home in the heart of the Mile-High City. The new Denver-based brand recently launched its science-inspired line of HOVERFLY hoverboards with more electric rideables on the horizon and is currently ramping up its marketing and operations teams.
"Denver is the perfect location to build," says Chief Marketing Officer Jason Wakefield. "It's a booming hub for both technology and the sense of fun and adventure that make up the cornerstone of our philosophy and our products. And we've never seen such an incredibly deep and diverse talent pool to work with in a metro area."
GOTRAX™'s signature hoverboards, the HOVERFLY and HOVERFLY PLUS, are UL certified self-balancing scooters that allow users to accelerate, stop and steer with a simple shift in body weight using advanced gyroscopic technology to provide the "weightless" feeling of hovering.
The hoverboards are just the beginning of a line of electric rideables and accessories Wakefield says will become increasingly innovative as they are released, accompanied by science and space-themed branding designed to encourage a sense of learning and discovery for children.
"The goal for GOTRAX™ is to be more than toys," he says.
The Denver team is building a vibrant and interactive brand universe complete with animated characters like TRAX, the friendly hoverboarding robot. These characters are designed to make learning fun and will inspire high-profile interactive contests and campaigns in Colorado and around the country. Blog and social media content will also incorporate timely and educational topics relating to science and technology.
But quality products are still at the forefront with the entire line receiving UL 2272 certification, and a hands-on supply chain approach ensuring the highest standards, from production through the sale and beyond. Customer service will also be managed from the Denver headquarters and is a key focus for the brand.
Wakefield aims to utilize his experience in the market to not only launch the tech toys to success but build a company and culture as fun as the rideables themselves.
"Technology and science allow these products to come to life, and our goal is for that to inspire kids as well," says Wakefield. "If we can be at the intersection of toys and technology that makes learning cool, that's something pretty special."
GET SOCIAL: @RideGOTRAX
ABOUT GOTRAX
Welcome to the GOTRAX™ GALAXY, where every day's the weekend and robots are our friends. We're on a mission to create electric rideables that boost imaginations and the possibilities for personal transportation. As of 2017, GOTRAX™ is dispatching electric rideables across the planet, starting with the HOVERFLY two-wheel self-balancing electric scooter aka hoverboard. Our company values start right here in our Denver-based marketing headquarters, where our team works their space boots off to raise the standards of the electric rideables industry.
GOLABS, INC™ DBA GOTRAX™
MEDIA INQUIRES
Don Stefanovich | press(at)gotrax(dot)com