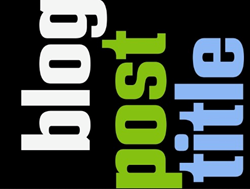 If the title is intriguing, they're going to move on to the first paragraph and continue to read.
Fort Lee, New Jersey (PRWEB) September 10, 2013
When it comes to driving traffic to a blog site, successful bloggers begin with an attention-grabbing title that attracts readers. In the newest blog from Marble Media LLC's GotRichBlogging.com website titled "Blog Post Titles: The Make-or-Break of Earning Traffic", guest blogger Liz Ernst discusses the best formula for composing a blog title that draws people in.
"The best way to get people to read your blog is to familiarize yourself with the "formula" for attracting people who are interested in your niche," Ernst says. "In order to get your blog noticed by your potential readers, try answering some obvious questions: How do you find the content that you like to read? What makes you select one article over another? Do you understand to importance of the blog post's title?"
According to Ernst, the answers to these questions will vary on a case-by-case basis, but one thing that never changes is the fact that the title determines whether readers will stick around long enough to read.
"If the title is intriguing, they're going to move on to the first paragraph and continue to read if you are telling them something they didn't know before," Ernst says. "It's a pretty basic principle that too many bloggers often overlook."
Your blog title gives the reader a first impression of its content (especially when combined with a relevant photo - never underestimate the power of a photo or video for driving traffic either.) When you spend hours crafting the perfect post, don't undermine your hard work by slapping just any title at the top. Make sure you have at lease one crucial keyword in the title (as well as in the first paragraph.)
In most cases, the title is the single most influential element for generating readership. You don't have to write hyperbole to make your title stand out to readers, although sometimes it's a great way to make your blog stand out. The title should entice their curiosity and challenge them to continue reading. Great post titles often relate to the reader and serve as a short yet concise explanation of what the blog post is about, and a preview of what's to follow. Don't mislead them, but don't bore them.
It may take a while until you're a blog post title-writing master. Make an active effort to work on your blog post titles with each one you write; when in doubt, ask yourself: "what would make me want to read this?"
For more information on starting and maintaining a successful blog, visit the GotRichBlogging.com website or email info(at)GotRichBlogging(dot)com.
About Marble Media LLC:
Marble Media LLC is a creator of high-quality, content-rich blog sites that provide expansive coverage of relevant information to readers who make up a wide range of demographics. The Marble Media LLC team of expert writers covers a wide range of specialties including travel, food, health, fitness, social media, marriage, parenting, technology, weight loss, fashion and much more.
For more information on Marble Media LLC's offerings and advertising opportunities, visit the MarbleMediaLLC.com website, or email sales(at)marblemedia(dot)com.