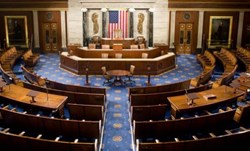 It's not what you make when the music's playing. What you get to keep after it stops is what counts.
Bingham Farms, MI (PRWEB) September 26, 2013
According to MyFoxDetroit.com, if the house and senate cannot agree on a budget, the government will run out of money next week. Their experts state this would have a negative effect on our economy and our wallets, but this does not cause Trading Concepts Doc Severson to make any quick moves in the markets.
"Over the past two years, the market has seen many of these "land mines" regarding standoffs between political opponents, all being heavily covered and hyped by the media," recalls Doc Severson, Trading Concepts' Chief Options Trader and Mentor. "There was the 'Fiscal Cliff,' the 'Sequester,' debt ceiling debates, as well as innumerable global crises." Severson states that in most cases what happens is there is an initial "knee jerk" reaction when the possible crisis is first reported, as it catches the market off-guard.
"But to this point, we've seen markets press higher into the event, as traders discount the possibility of a positive resolution. In all of those cases, the market has gone much higher as the short interest gets unwound to the delight of Bulls," Severson said. He adds, "As we say, 'this will continue to work until it doesn't.'"
"Eventually one of these events will be expected to resolve and will not do so; the downside reaction will be one where no one can hide from the effects, similar to the August 2011 downdraft," Severson states. He warns, "So while the music continues to play, keep circling the chairs but all the while understand well ahead of time exactly what you will do should the music stop playing and a known risk event arrives." In other words, have a plan.
According to MSNBC Mad Money's Jim Cramer, "The Markets are not scared of a shutdown." On Tuesday he gave several reasons for this along with a survival guide.
Severson sums it up this way, "It's not what you make when the music's playing. What you get to keep after it stops is what counts."
About Doc Severson:
Doc Severson is one of Trading Concepts' secret weapons and, until recently, was only known among an exclusive group of professional options traders. Severson transitioned from the corporate world of working too many hours once he found a way to supplement his income. He surrounded himself with some of the best options traders available and immersed himself in self-study 4-6 hours every day after work. Within 18 months of intense study, he was able to quit his corporate job, shatter the glass ceiling and create his own empire as a full-time trader. Doc has traveled much of the United States to show other traders how it is possible to achieve consistent monthly income. Severson is the Chief Options Trader & Mentor for Trading Concepts, Inc.
About Trading Concepts, Inc.
Founded in 1994, Trading Concepts quickly established a reputation as one of the industry's finest educational companies in the world. As one of the oldest, most respected trading education companies in the industry, they are proud to have mentored over 10,000 traders in Forex, E-mini futures, Options and Stock Trading, bringing them powerful trading strategies and money management techniques that have previously only been available to professional traders.