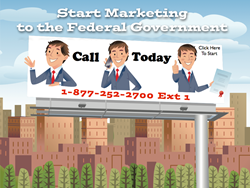 Orlando, FL (PRWEB) September 06, 2013
Most businesses have a marketing campaign for their commercial and residential customers. These are fairly easy compared to a targeted government marketing campaign. Most companies that have a marketing campaign already implemented have had the same campaign for years and never changed it. They set it and forget it. When it comes to a government marketing campaign the process is very different. These types of marketing campaigns should be put together by government marketing firms that understand how the federal government buys. US Federal Contractor Registration has helped tens of thousands of businesses register in System for Award Management as well as provided innovative marketing strategies connecting businesses with federal buyers across the nation.
Once a business has become registered in System for Award Management it does not mean that government contracts will start pouring in. Businesses must market themselves to the federal government in order to win government contracts. Some of the these key marketing strategies include a government-formatted website, government resume distribution and being involved with the right procurement databases.
One of the first recommended marketing strategies is having a government-formatted website. Gov Kinexdesigns government-formatted websites that can bypass government firewalls and spyware to reach federal procurement officers. A government-formatted website is a way to showcase all the required information that a federal buyer needs to see in order to award a business a government contract.  Providing information like your Capability Statement, Past Performances, a Vendor Profile and Testimonials are all categories that should be on a government-formatted website.
The next marketing strategy would be providing a government resume or better known as a Capability Statement to procurement officers. A Capability Statement includes information like your goods and services, DUNS number, Cage code, NAICS codes, contact information, Federal Set-Asides and most importantly a brief description of the business. Every business involved in government contracting should have a Capability Statement.  Most businesses choose to use government marketing services to help create their Capability Statement. This is extremely important in attracting not only the right contracts but federal buyers.
The last recommended marketing strategy in government contracting would be to register in Agency Procurement Databases. There are specialized agency procurement databases that send email bid notifications directly to a business's inbox about current solicitations. Every business should be registered in FBO.gov (FedBzOpps) in order to bid on contracts and view current draft/live contract solicitations. USA.gov has a list of all the federal agencies in the United States and most of these agencies have their own procurement system as well. By tracking down some of the procurement databases that are related to these agencies you can have a closer watch on contracting opportunities.  Agencies like the VA, NASA, GSA and the DoD all have their own procurement databases. Again, this is where a good government marketing agency will come into play to make sure you are listed properly on all of these agency procurement databases.
According to GovernmentContractingTips.com, the DoD has a online website called TechMatch to help their agency with procurement needs. The GSA also has a system called E-MOD that businesses can register in once they have been placed on a GSA Schedule. Kenneth Moore, GSA Director of Rocky Mountain Region Client Support quoted in a phone interview with GovernmentContractingTips.com stating, "Just because you are registered in System for Award Management doesn't mean you will start receiving government contracts. Specific sources I use are FBO.gov, E-MOD for GSA Schedules and DSBS.gov when I am doing research for small business federal set-asides like HUBZone and Service-Disabled Veteran Owned businesses. My job is to legally get what the government needs. Businesses must market to the federal government through these databases in order to become noticed. I have also heard of third party registration firms conducting other types of marketing for businesses. Marketing is so important to a small business because these contracts are not going to just present themselves, your business needs to have a marketing strategy in order to get them. Businesses need to reach program and project managers within the government to be awarded these available contracts."