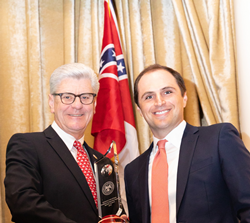 "I am truly excited about how successful we've been in growing our presence in financial markets beyond the US." - Boyce Adams, Jr., BankTEL President/CEO
COLUMBUS, Miss. (PRWEB) December 18, 2018
BankTEL Systems was among the honorees at the 2018 Governor's Awards for Excellence in Exporting, in recognition of its success in increasing export sales of accounting software for financial institutions.
BankTEL is the developer of ASCEND, a cloud-based software solution used by banks, credit unions, insurance companies, and other financial institutions worldwide. BankTEL serves over a quarter of the domestic market, making it the top FI accounting software provider in the US. Since 2009, it has had a growing overseas presence, and now includes institutions all across the globe.
"I'm proud of serving the American community and regional banks that support small business owners and are the literal economic engines of their towns. I'm also truly excited about how successful we've been in growing our presence in financial markets beyond the US," said Boyce Adams, Jr., President and CEO of BankTEL. "Mississippi supports entrepreneurship and industry, and it has always been a privilege for BankTEL to call Mississippi home. I consider it a big honor for our success to be recognized and celebrated by our state's leader."
Gov. Phil Bryant presented the awards at an Excellence in Exporting event at the Old Capitol Inn in Jackson.
"The companies honored at this year's Export Awards ceremony have successfully demonstrated their commitment to doing business in our state, while strengthening the economy and creating jobs through international trade," Gov. Bryant said. "They are a powerful testament to the fact 'Made in Mississippi' is a stamp of quality known around the world, and I commend each of them for making a difference in the lives of many through their exporting efforts."
Other honored companies include NaturePlex, Flathau's Fine Foods, Hyperion Technology Group, Agape Medical Tourism Center, CoxMPH, Inc., Fast Flow Pumps and God's Way Enterprises.
BankTEL helps financial institutions manage expenses with easy-to-use software solutions that maintain transparency, accountability, and regulatory compliance. BankTEL is the only international software company that focuses solely on accounting solutions for financial institutions and has over 25% of the U.S. market share with a 27-year history of serving clients of all sizes.