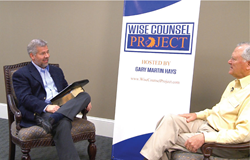 People can criticize our system of government, but no one has figured out a better way.
Duluth, Georgia (PRWEB) October 29, 2014
In an effort to help men and women of faith make better decisions in their daily lives, Gary Martin Hays interviewed Georgia Governor Nathan Deal for the Wise Counsel Project - a podcast that includes interviews with key leaders in business, sports, family counseling and the church. Deal, a Georgia native and the state's 82nd governor has a long and reputable biography. He served in the U.S. army, was a former prosecutor, judge, state senator and U.S. Congressman.
During the interview, Gary Martin Hays questions Governor Deal about struggles and conflicts with faith in the political arena and why many politicians shy away from talking about their faith. Because of his experience and background, Governor Deal was able to speak firsthand about those in politics who view things strictly from a theoretical or educational perspective. He stated that, "There has been so much criticism on the part of some who have a very different point of view, of saying that we allow religion to unduly influence the actions and positions that government officials take." Deal disagrees with the critics, but believes that "Christian beliefs are the foundation stone for the creation of our country. It is what has sustained us through all of these generations." He defends, "People can criticize our system of government, but nobody has ever figured out a better way," referring to American democracy.
Similarly, in Gainesville, Georgia, Chestatee High School has been attacked by a non-local atheist group, AHA (American Humanist Association). The reason being, the football team quoted scripture on documents and banners and the coaches led the teams in prayer prior to the games. Governor Deal spoke up, saying, "I don't think there should be any conflict today but unfortunately we have seen those kinds of issues put into our federal courts."
Governor Deal has recently created 2 new initiatives. This past April he began the 'Interfaith Council' with the purpose of addressing how convicted offenders are able to re-enter the work force. In September Governor Deal started 'The Healing Communities of Georgia' to work with congregations of faith to reduce recidivism. The push for reform began by trying to divert non-violent adults out of the prison system followed by non-violent juveniles. Governor Deal notes that most of the time these people have lost any kind of support system including their families in the civilian society. The pattern for a released individual is to return to the community in which they were first picked up for trouble. If the local community, including the faith-based community, does not provide some assistance for them, the likelihood of them getting in more trouble is greatly increased.
Gary Martin Hays referenced 'All Pro Dads Live', a conference that teaches men how to be engaged in the lives of children. He asked Governor Deal what could be done in Georgia to encourage fathers to be available to their children in order to help prevent youths from beginning a journey with the juvenile justice system. The governor expressed appreciation to Tony Dungy and others who are trying to increase the participation of fathers and father figures and admitted the need to reverse that trend. He stated, "To get fathers involved is not only the right thing to do, but it pays benefits for the entire family unit."
The interview contained questions regarding several issues facing our young people today. One of the paramount issues being literacy. Governor Deal expressed the need for an early focused effort to get children interested in reading. He said, "We know that if a child does not read at a third grade level when they leave the third grade, we spend alot of money, time, effort and tears trying to get them through the graduation lines." He goes on to say, "We believe a focused effort early on, to get children interested in reading, and making sure that they do read and know how to do it effectively is very important." He also reported that his wife Sandra Deal, through the campaign "Read Across Georgia," has read to over 400 different schools in all 159 counties in the state of Georgia.
A second issue Governor Deal mentions that the state of Georgia is encountering is drug usage. Many people that wind up in prison have substance abuse problems and the trend is to begin using at a much younger age. Governor Deal also states, "We are seeing an increase in the use of prescription drugs that they are getting out of somebody's medicine cabinet... It takes a focused effort on the part of everybody. If a child is getting pain pills out of their parents' medicine cabinet, then the parent needs to be a little more responsive and be more aware of what's going on." On the flip side Georgia's authorities have had great success driving out pill mills in our state.
The Governor spoke about the progress of job creation in Georgia being one of the top states in the nation. As a fiscal conservative he is aware and working hard to give people the needed tools to support themselves. He ends with a final statement - "Don't be afraid to risk being a failure. Strive for your full potential."
ABOUT GARY MARTIN HAYS
Gary Martin Hays is not only a successful lawyer, but is a nationally recognized safety advocate who works tirelessly to educate our families and children on issues ranging from bullying to internet safety to abduction prevention. He currently serves on the Board of Directors of the Elizabeth Smart Foundation. Gary has been seen on countless television stations, including CNN Headline News, ABC, CBS, NBC and FOX affiliates as well as being featured on the Bio Channel. He has appeared on over 110 radio stations, including the Georgia News Network, discussing legal topics and providing safety tips to families.
He hosts the Wise Counsel Project podcast which has the mission to help men and women of faith make better decisions in their daily lives and help to strengthen their relationship with Jesus Christ. Gary is also the host of "Do I Need a Lawyer" which can be seen every day on Atlanta's CW Network.